Brief
We were appointed to work with Robert Sarran of Club Caribbee travel shop in Tooting, London. When we got in touch with Robert, he had just exchanged on a new High Street property and he was looking for a team able to take his vision for the new store from concept to creation.
Caribbee (then Club Caribbee) have a fantastic reputation, having provided Caribbean travel expertise for over 30 years. However Robert was aware that the location and premises did not reflect the company he had built up; the existing shop was dated and lacked any retail flair. This may have been having an effect not only on his customers, but also his staff.
The new retail interior needed to be an environment that led the way in engaging new customers, while still welcoming existing clients, and also provided an improved workspace for staff.
We offered our complete design service from initial strategy and concept to tender and implementation. We worked on everything from refreshing their identity, brand and signage to full interior design – a complete package to create a concept not only unique in design but also consistent throughout.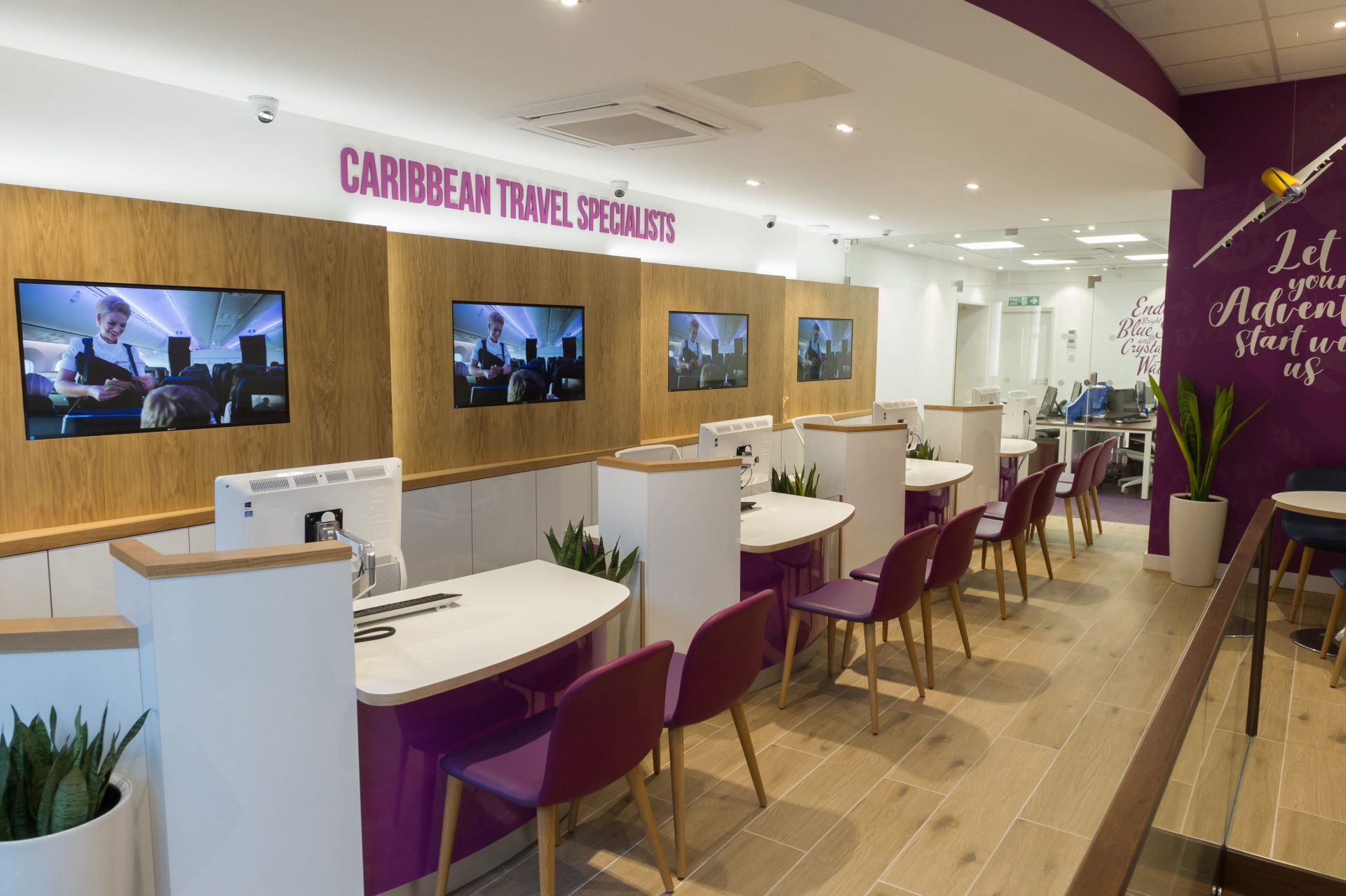 Our brief required us to consider and implement what would be the ground floor 'standard' and basement level 'premium' areas of Caribbee's new retail travel shop, making the most of its new location on  Tooting High Street, London.
Part of this process was refining Caribbee's logo and palette. Still using the bright, fun aspects that had served them well we focused on purple as the primary brand colour for the shop front and through the interior.
On the ground floor we brought detail and a range of textures to the purple through carpets, upholstery and environmental graphics. Warm wood flooring and finishes and fresh white surfaces balanced the strong colour, helping create a dynamic and modern but friendly atmosphere.
With bespoke desk design (considering all customer types) and new chairs we improved comfort and ambience for visitors to the shop as well as staff.
The lower level keeps the purple as a highlight against more classic neutrals of soft cream and dark wood, creating a calm, relaxing space to consider specialist holidays and detailed, bespoke travel experiences.
Our full design service also included the shop front, signage, displays, feature walls and in store digital media to promote all the services provided, showcase the beauty of the Caribbean as a destination through imagery and video content and, of course, offer holiday specials.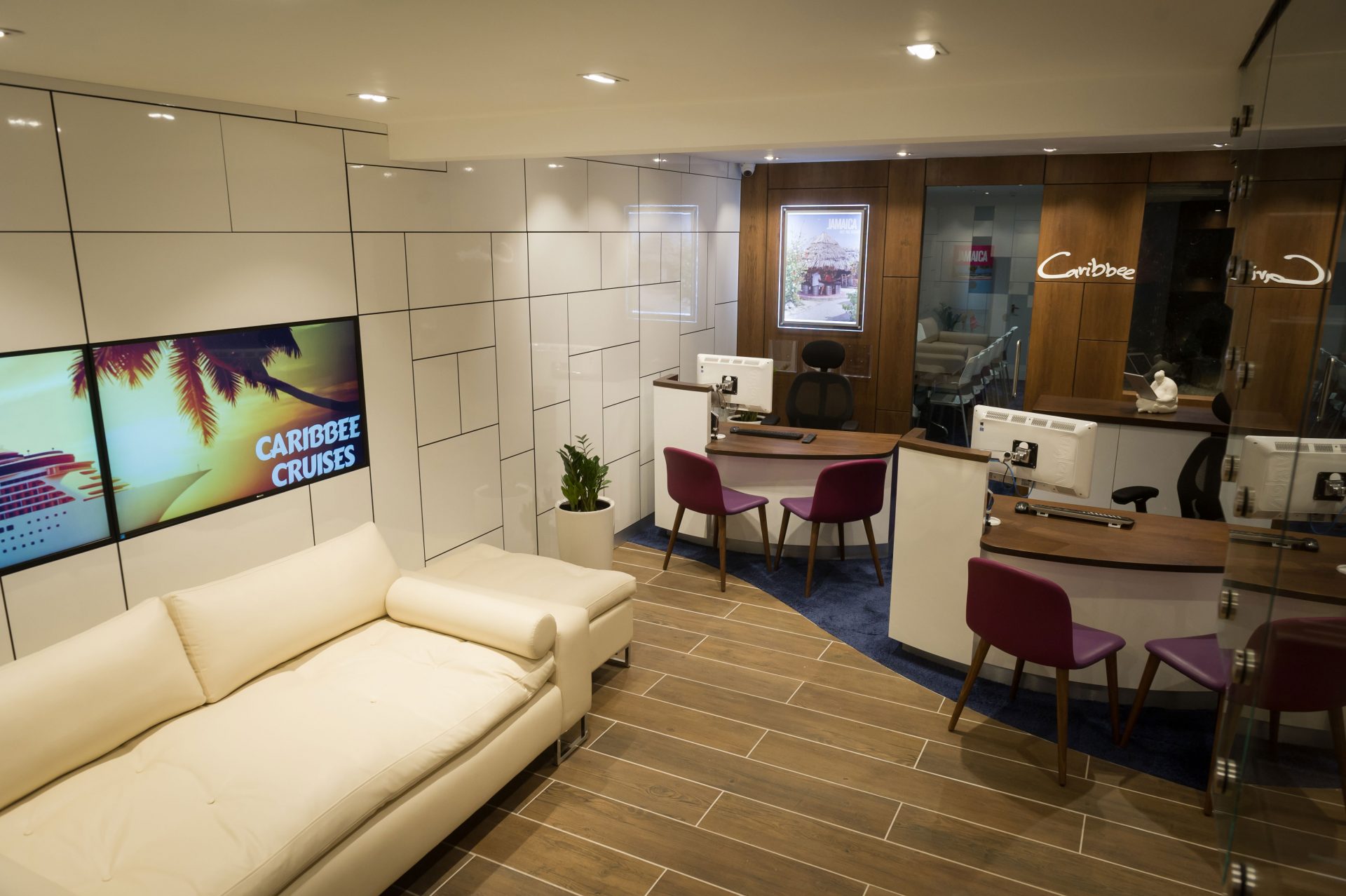 For the implementation we worked closely with our partners and preferred contractors BDI and Hallmark Signs both of whom have done a great job again.
We are proud to say we managed to design, develop, and deliver a full turnkey solution for our client within three months, accomplishing a unique branded experience for Caribbee in Tooting high Street, an alternative to ubiquitous chains and online booking.
Considered design has enabled the creation of a space at an affordable price that realises our client's aims, showing Caribbee as the Caribbean specialists and communicating the quality, personal and trusted service that they provide.
If you like what you see and would like to hear more about how Nugget Design could be of support to you and your company please do get in touch.