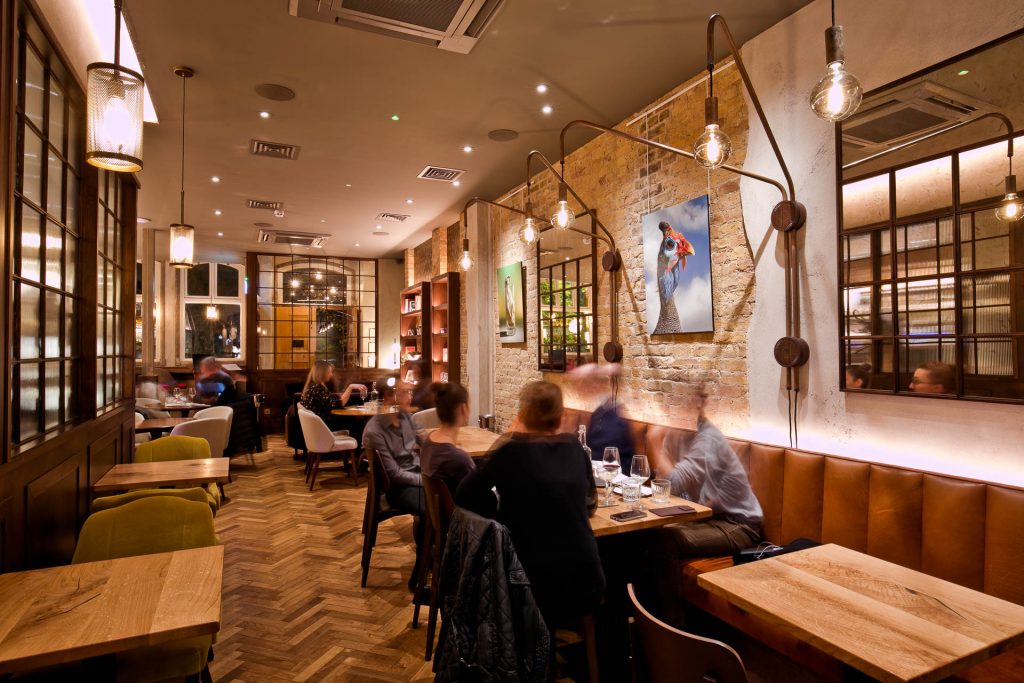 Key ingredients for a successful bar and restaurant.
Key ingredients for a successful bar and restaurant.
https://nugget-design.com/wp-content/uploads/2020/01/BankHouse-Evening-022-1024x683.jpg
1024
683
Nugget Design
Nugget Design
https://nugget-design.com/wp-content/uploads/2020/01/BankHouse-Evening-022-1024x683.jpg
The findings from our exhibit at the Restaurant and Bar Design Show, ExCeL London. Thanks to everyone who took part.
Design
"Brand" "Story" "First impression" "Inviting" "Attention to detail" "Colours" "Quality materials" "Comfort" "Layout" "Bathroom"…..who hasn't judged a place by its toilets : )
Perhaps unsurprisingly, most mentioned of the 'key ingredients' was the look or design.
The design helps to ensure a space will be fit for its purpose. It is a conversation between aesthetics and functionality.

It starts with your brand. This is what makes you recognizable, gets the attention of your potential customers and their trust. Establishing the brand for your restaurant/bar brings together the set of ideas underlying your business. Good branding makes you consistent, impactful and immediately communicates to customers your values and what you have to offer.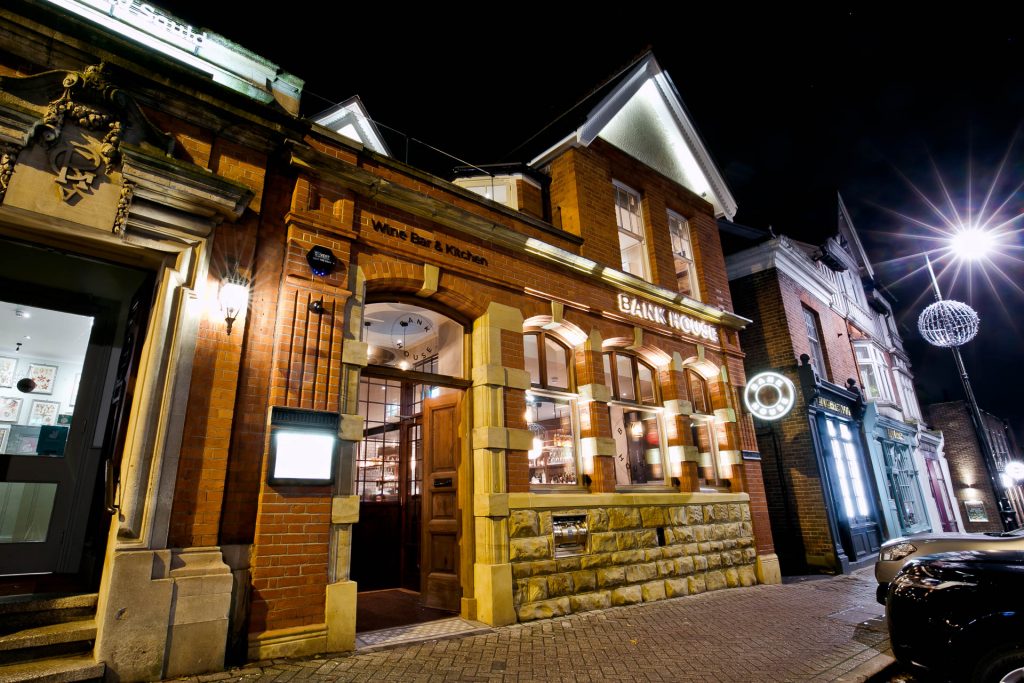 Your brand is more than just a logo – it encompasses everything from the first impression online (website, social media), in person (shopfront and signage) to the way people are greeted on arrival, the menu, the offer and of course the taste of the food / drinks.
So what does design involve?
A designer will help you build your brand identity and then translate it into the fundamental elements that characterize your space.  
For a typical project the design process will include producing strategy, concepts, plans and drawings, mood boards and sketches alongside full technical drawings to show the look, function and methodologies that can be achieved and that create your customer's experience.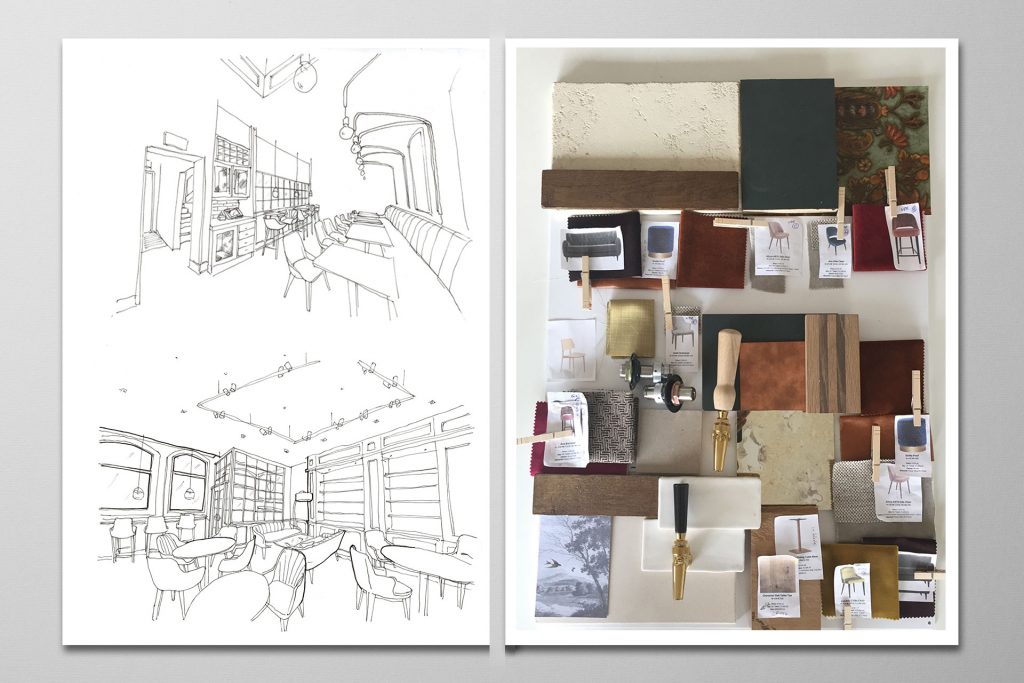 For any space, but particularly for bars and restaurants, layout is crucial. Positions of elements such as the bar, kitchen, tables, down to tills and waiter stations all affect circulation. How the products travel from the kitchen, or bar, to the customer is one of the most important elements. So it is also important to consider how many members of operational staff will serve the space when designing the layout. This connects to another key aspect that came up in our conversations: service.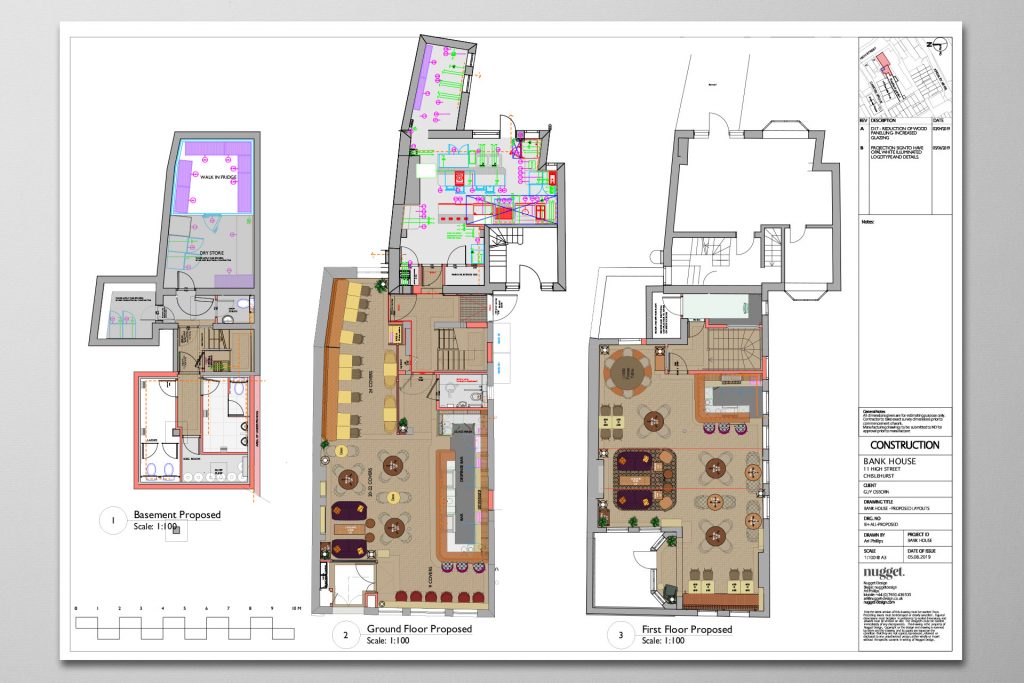 Product
"Quality" "Variety" "New flavours" "Fresh" "Local" plus 'Lots of gin"…
Now this must speak – and taste- for itself.
A great product immediately fuels word of mouth and these days encourages online and social media recommendations. The better the product, the more chance of positive reviews, recommendations and sharing between customers both new and existing.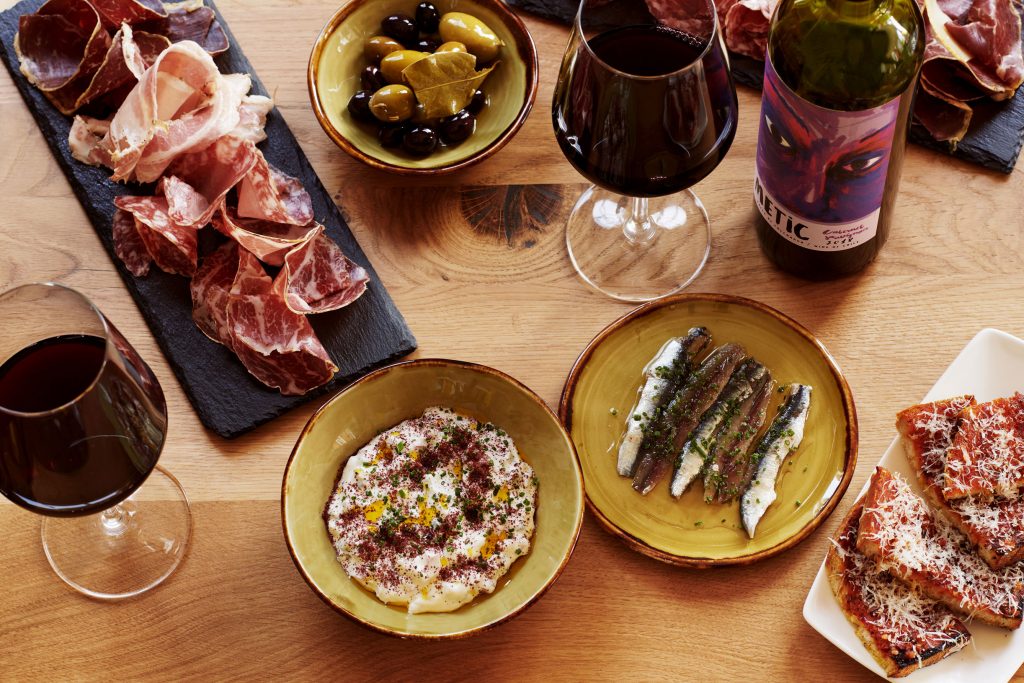 Although having a quality product is essential for you to build and grow your business and gain a positive reputation and word of mouth, it is most defiantly not the only key factor in having a successful restaurant or bar. In fact, one of the main reasons behind losing customers is not usually down to the quality of the product or even its price, but a poor experience with poor customer service… which brings us onto the next key ingredient.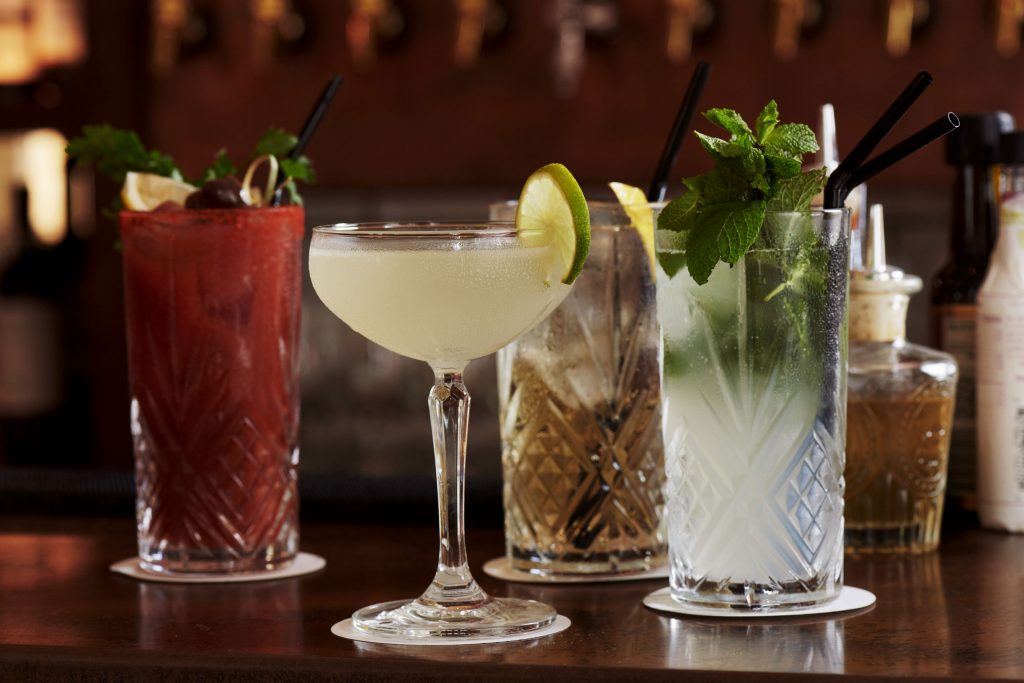 Staff and Service
"Quality of service" "Speed / Waiting times". And with this, the team that delivers the product and experience: your staff.  "Friendly" "Knowledgeable" "Good staff" "Clean environment" and "Hospitality of the owner" all came up.
Good space planning is essential for the success of any restaurant, bar or cafe. A successful layout makes the most effective and efficient use of the space, maximising its potential without squeezing and cramping, but instead facilitates movement and therefore promotes faster service. Regardless of appearance, any café or bar will soon lose its allure if the service is slow or inefficient or if mistakes occur when delivering orders at the right time and temperature to the right tables.
Well trained, professional and friendly staff are crucial to ensure good daily running of your bar/ restaurant and set the tone.
From a design perspective, staff are part of the restaurant branding and can make or break a customer experience no matter how good the design may be. Having said this, sometimes you may accept the service is average if the surroundings and offer excel.
Ensuring staff are always presentable and that they reflect the brand when they are on or around the premises is always important. And with any business creating a great team is led from the top – by you, the owner. And how you set the stage for your team plays a part in achieving your next key ingredients.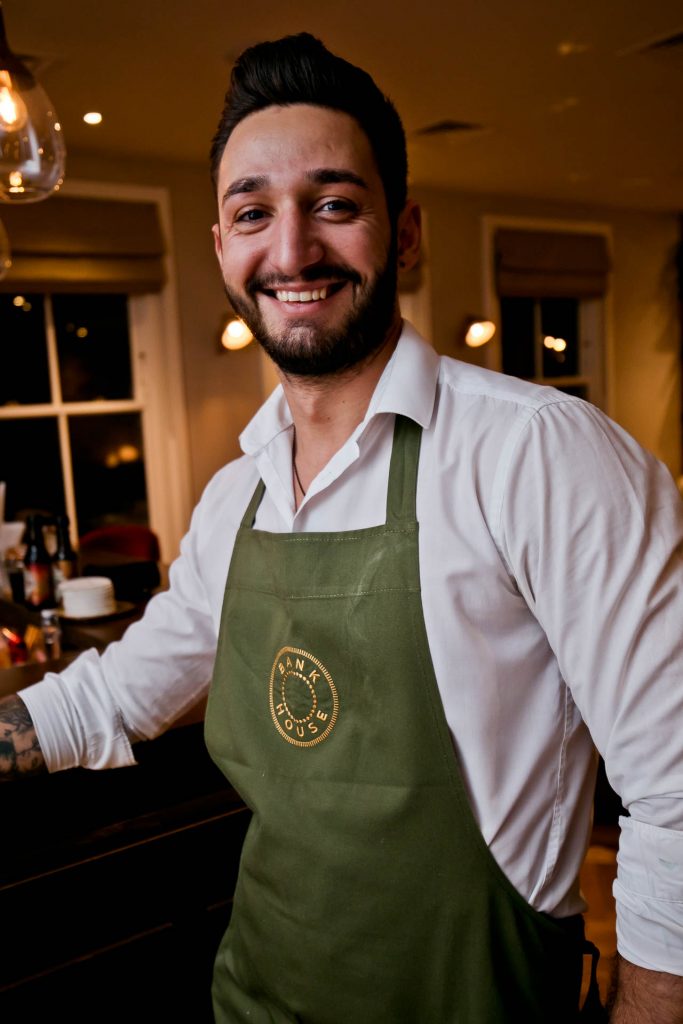 Atmosphere
"Buzz" "Personality" "Unique" "Acoustics/ sound" "Good music/ music levels" "Feeling" "Smell"
Atmosphere and ambience: the feeling a space evokes, the reading or emotional response a space induces in the user. The atmosphere is the staging of all the interior elements, the design, the work of the staff, your offer …all coming together to set a mood.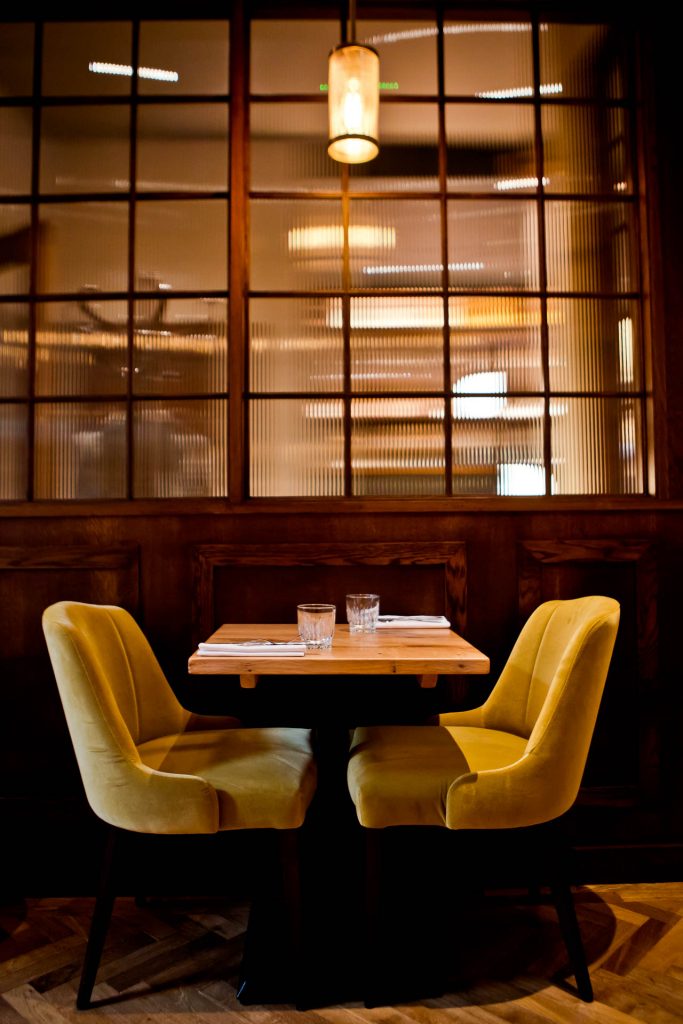 The exact type of atmosphere you create will depend on what is appropriate for your project and aims for your business ( which will also direct the style for your design). But although atmosphere can seem abstract, and hard to describe, generally it cannot just be willed into being; it takes direction and purpose to give you the best chance of achieving the mood you want.
A designer will work around your brief in conjunction with your brand values and will find the best way to create the right effect to attract the targeted audience/ customers.
And design is about more than surfaces, although these are important. It will also be considering the aspects that should in many ways be unremarkable when they are made to work: ventilation to extract unpleasant smells and retain the good smell of food flavours to induce appetite; considering sound levels and sources so a space has life and energy but can still be enjoyed; identifying how to regulate temperature and incorporate the visual impact and systems may have on the space. All this has an impact on the frequency people visit, how much they consume and how they respond to your Bar/ Restaurant.
Lighting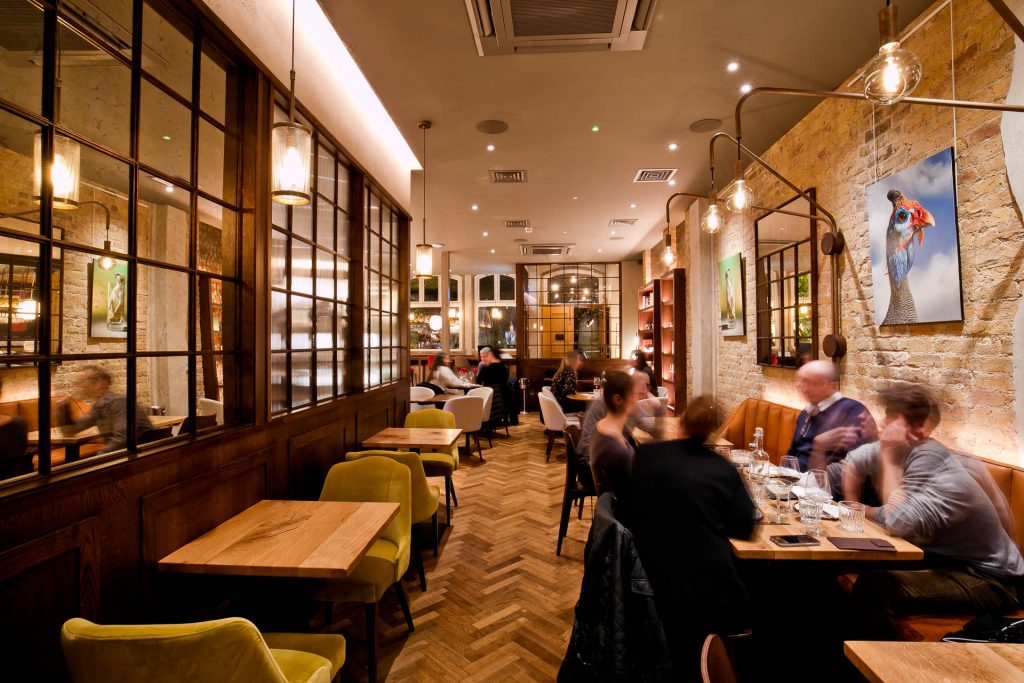 This was one of the words that came up a lot with atmosphere. And it is one of the most important aspects in our everyday life; it affects our mood and perception of time. Therefore lighting is essential to get right. Good illumination will complement the other design elements and contribute to the positive impression of the space, which along with good customer service and food can inspire customers to return.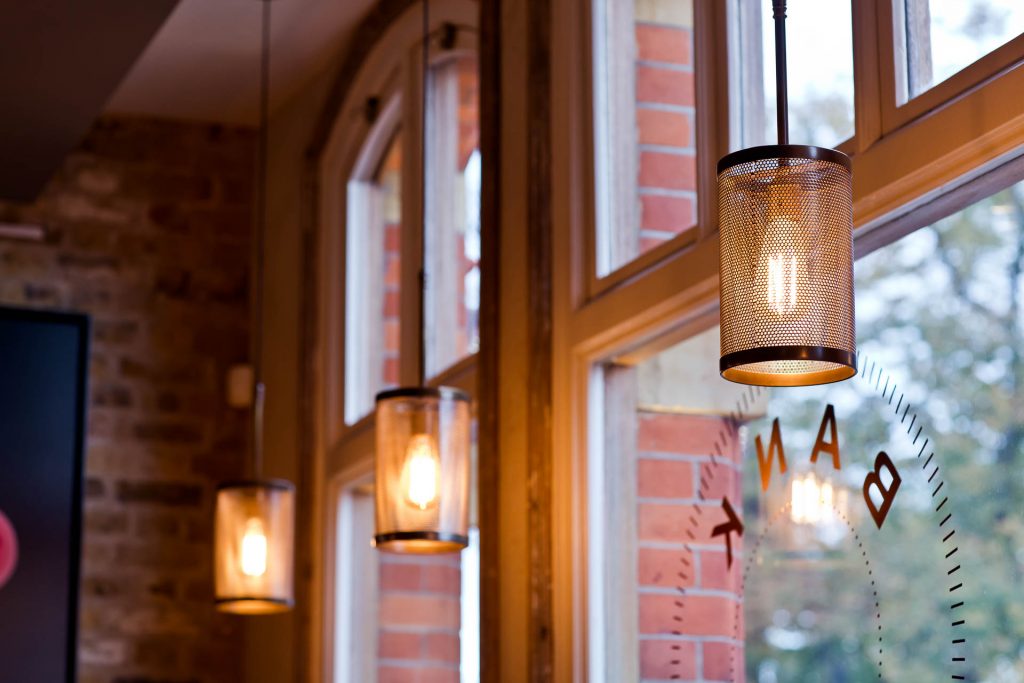 Light can be practical, being used to guide people through corridors and circulation areas or ensuring menus can be read but not distort the colour of the food. Or light can add drama or character.
The most aesthetically pleasing and effective way to light a room is to have up to five layers of lighting: task lighting, ambient lighting, accent lighting, decorative lighting and statement/ feature lighting.
Examples of these lights are:
Task light:
The work lights under bar counter to light work surface for bartenders  
Accent light:
Works around the bar, on the back bar/ shelves, can be under counter, customer facing
Feature lights:
Pendant lights in a stairwell 
Ambient:
General spotlights 
Decorative:
Floor lamps, wall lights and table lamps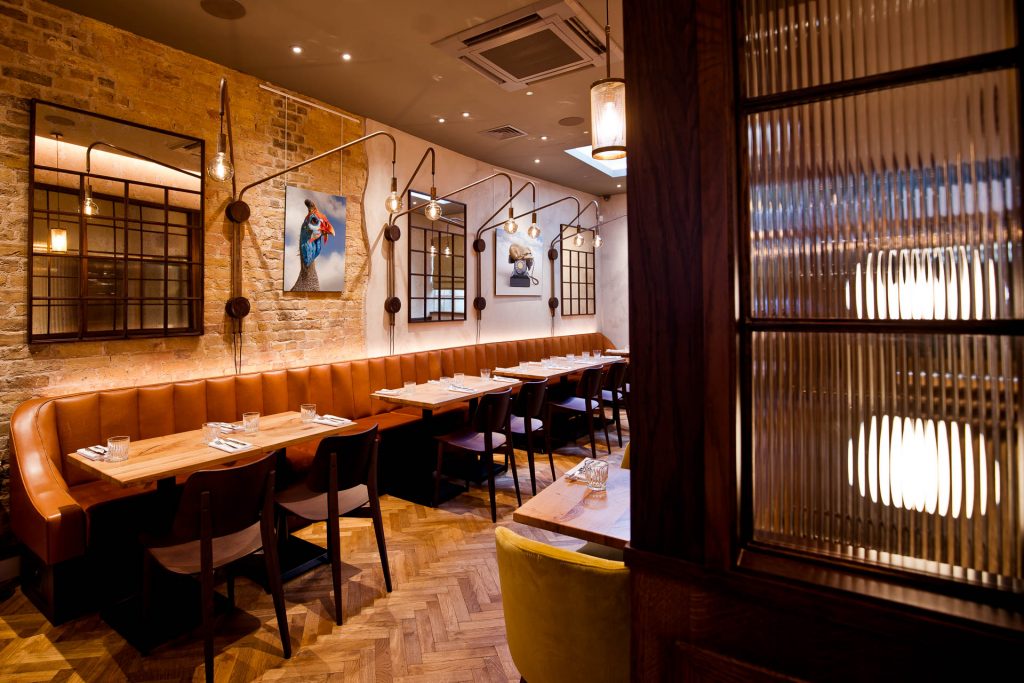 Location
This may be in terms of convenience, accessibility, the type of neighbourhood, being the first on your street, the view….
It may be being on a busy high street and finding a unique welcoming space to escape to. Or it may be the harmony or contrast between your bar/restaurant and its surroundings. The location and the nature of the property you take on can do part of the work for you in creating atmosphere and leading your design- you may have stumbled across a location that just seems to inherently have charm and the rest of the project flows from this.
However finding the perfect space is not always possible and there are often trade offs. Setting up your business in a high foot traffic area will encourage passing trade, however it can demand higher rent rates. And some argue that if you have an amazing offer, the location won't matter because people will still come. However, promoting your offer and getting the visibility may be more costly.
Design can play an important part of the equation in terms of your location. Elements from the surrounding area can inform the design, provide inspiration and be referenced as subtly or as boldly as you wish. But most importantly, considered design helps you discover the potential of your location, get the most from your investment whatever size or state the space is in that you are working with.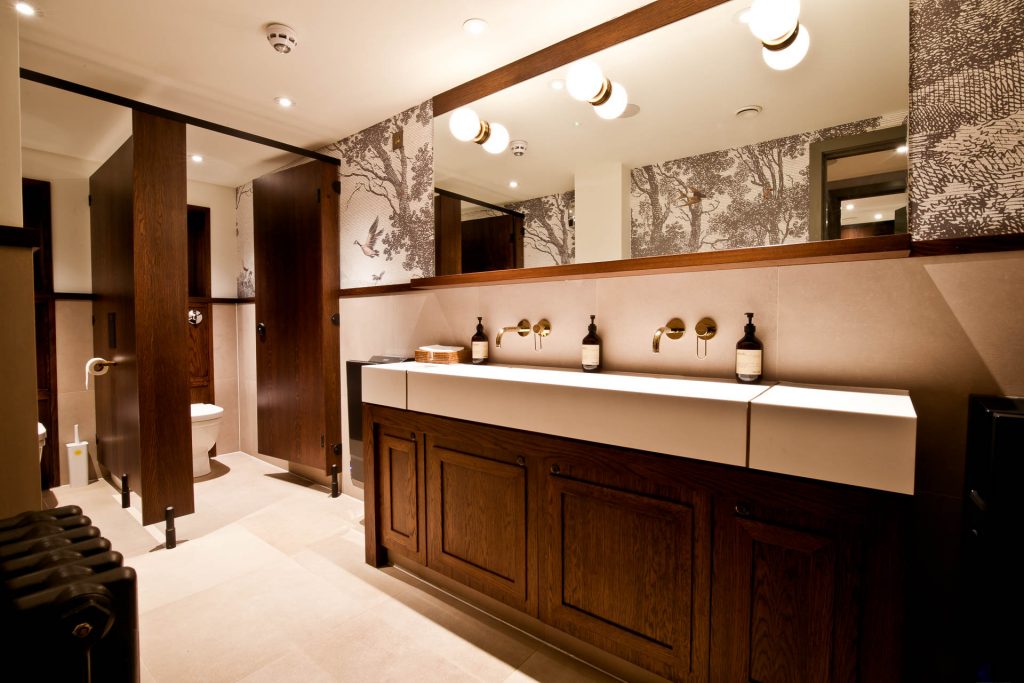 Special mentions
There were several 'key ingredient' responses that stood out, for a variety of reasons. For some it was the personal preferences they gave away ("must be located in Mayfair'!). For others the detailed thinking they exhibited ("two good chefs"). Then there were those that surprised by not coming up more often ("Instagram-able").
There were also ones that might become increasingly common as they take on greater importance to people ("sustainability" and "serving the community").
And last, but certainly not least, there was one with which we thoroughly agree: "Consistency".
Next steps
We hope you've enjoyed our list.
And remember, if you want a professional job, get a professional to do it : )

Good design makes good business sense. If you know you want to create a bar / restaurant / cafe then appoint a designer sooner than later, not just once you have signed the lease. It's better to move into a space with a concept or idea of what you're trying to achieve and use the rent free period to implement the vision rather than to start designing when you should be implementing. 
Common stages of our design service:
Familiarisation and strategy
Concept design
Design development
Detailed design and tender packages
Tender and value engineering
Implementation

These do take time, but save you more money and time in the long run if considered at the outset of the project.
Contact us at Nugget Design if you feel we are the right professional design agency for you and your next project.
Why not visit  Bank House and let us know what you think?
 Bank House 11 High Street, Chislehurst BR7 5AB 020 8249 0461.
Open all week 11.30am-10.30pm (6pm Sun).