Go Travel Case Study
Go Travel appointed Nugget Design to help them take their independent, family run travel agency to a new level of success.  They realised that they needed more than just interior decoration but instead a completely new refurbishment; an approach that looked at their business, their interior and brand strategy and helped them engage new customers and differentiate themselves in the market. To achieve this we set out to create a single branded experience and a 'destination' shop which their clients would enjoy returning to trip after trip.
The Brief
Go Travel have been a very successful, independent, family run high street travel agency for almost 20 years.  However they felt the interior and brand had grown tired and that it was time for the shops to be reviewed.  
And despite their success,  they knew they couldn't ignore the threat to travel agencies- and high street retail in general-  with the increase of online travel options and alternatives to the high street travel shops. 
We felt Go Travel's brand strapline 'More than just travel' was clever and helps customers understand they are more than just a place to book flights. However, their interiors did not actively reflect this.
We were appointed to help them communicate and build on this and to further their growth and success. To help them re-position the company and open the doors to new potential customers.
Our Solution
We broke their traditional sales desk/call centre format and converted the space into a high street travel destination rather than just a place to book a ticket. We created a comfortable space people could engage with, be inspired and connect with on an emotional level without feeling they have to sit immediately on arrival at a sales desk. Customers no longer will come to Go Travel just for a ticket but for advice, inspiration and to discover what is new and exciting for their next adventure.
We divided the interior into several distinct zones. This included consultation desks, inspiration zone, advice and currency bar and discovery room. This caters for all visitors and customers to the shop, whether they enter to buy or just looking for advice and inspiration.
The result
With the flagship Chislehurst store and Petts Wood branch officially open, we and our clients are extremely proud of this project. We have created a completely fresh new image for Go Travel, attracting new customers while not alienating their existing clients. The stores now have engaging active waiting areas, inspiration zones, dedicated currency areas along with sales and advice desks. We have also created and delivered a bespoke digital in-store media and shop window digital marketing strategy so that the Go Travel welcome and experience starts on the high street and continues throughout the store.
We look forward to the implementation of the Locksbottom and Blackheath branches in 2017 and with more to roll out in the future.

Check out our
before & after pictures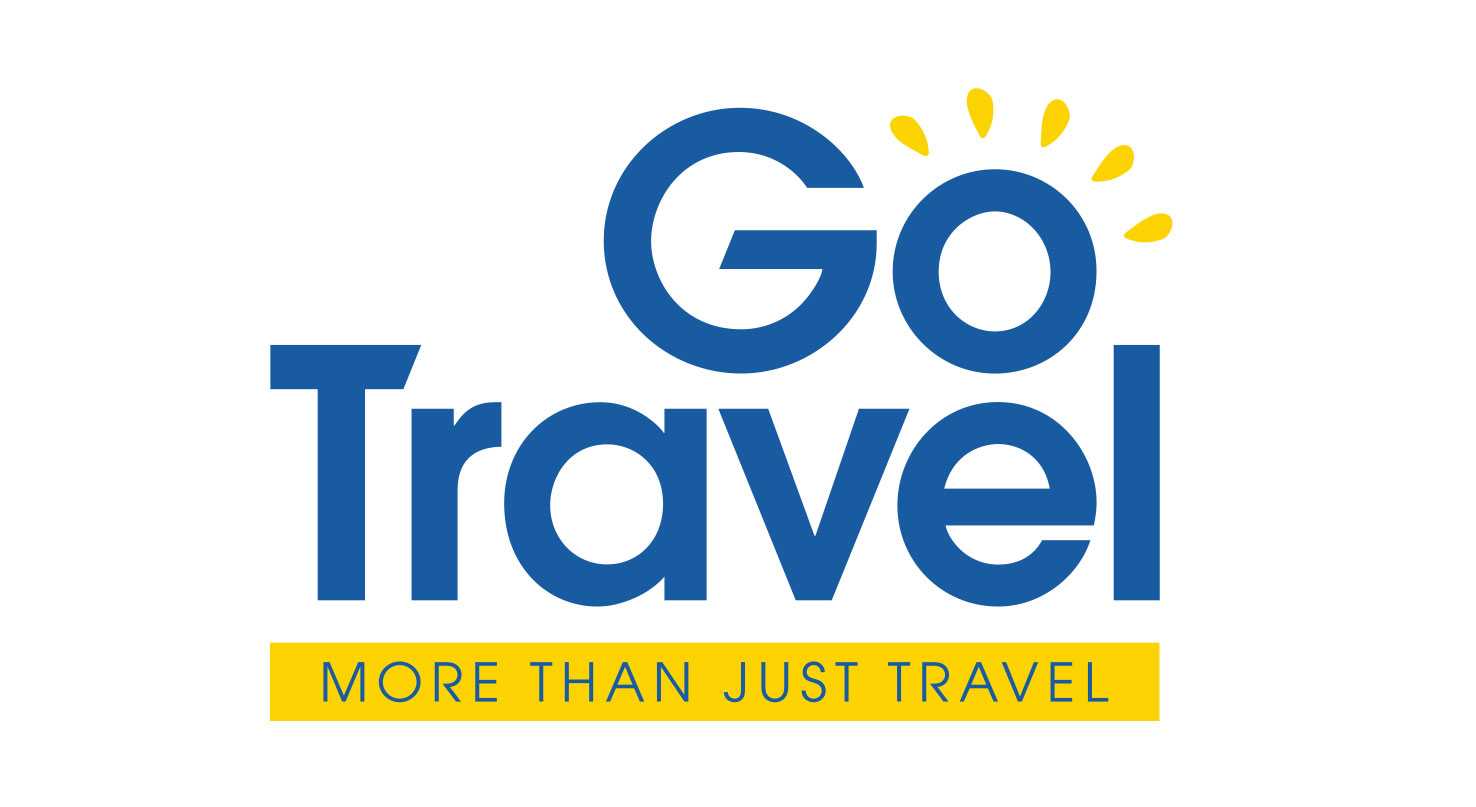 Branding
Go Travel have had a memorable high street presence for years, however the comic sans, generic arial fonts and giant sun may not have been attracting new clients nor did it sit with the high street's guidelines.
The aim was to look at a new logotype that was simple and clear; one that could easily work with third party operators, suppliers' brands and brochures, but also engage new customers and update their brand profile, positioning them as a welcoming family run high street travel agency with a brand that has the potential for growth beyond their current four branches.
We looked at their brand values, target customer and competition alongside their aims and aspirations when considering the new brand mark, colours and typography. We even created their environmental graphics for in-store feature walls and worked with our in-house fashion designer Sharon Finch of TrendLab to develop their uniforms.
We completed the project by producing mini identity guidelines. The guidelines ensure that the brand identity is communicated consistently across all marketing channels and customer touch-points facilitating a strong, effective ongoing implementation.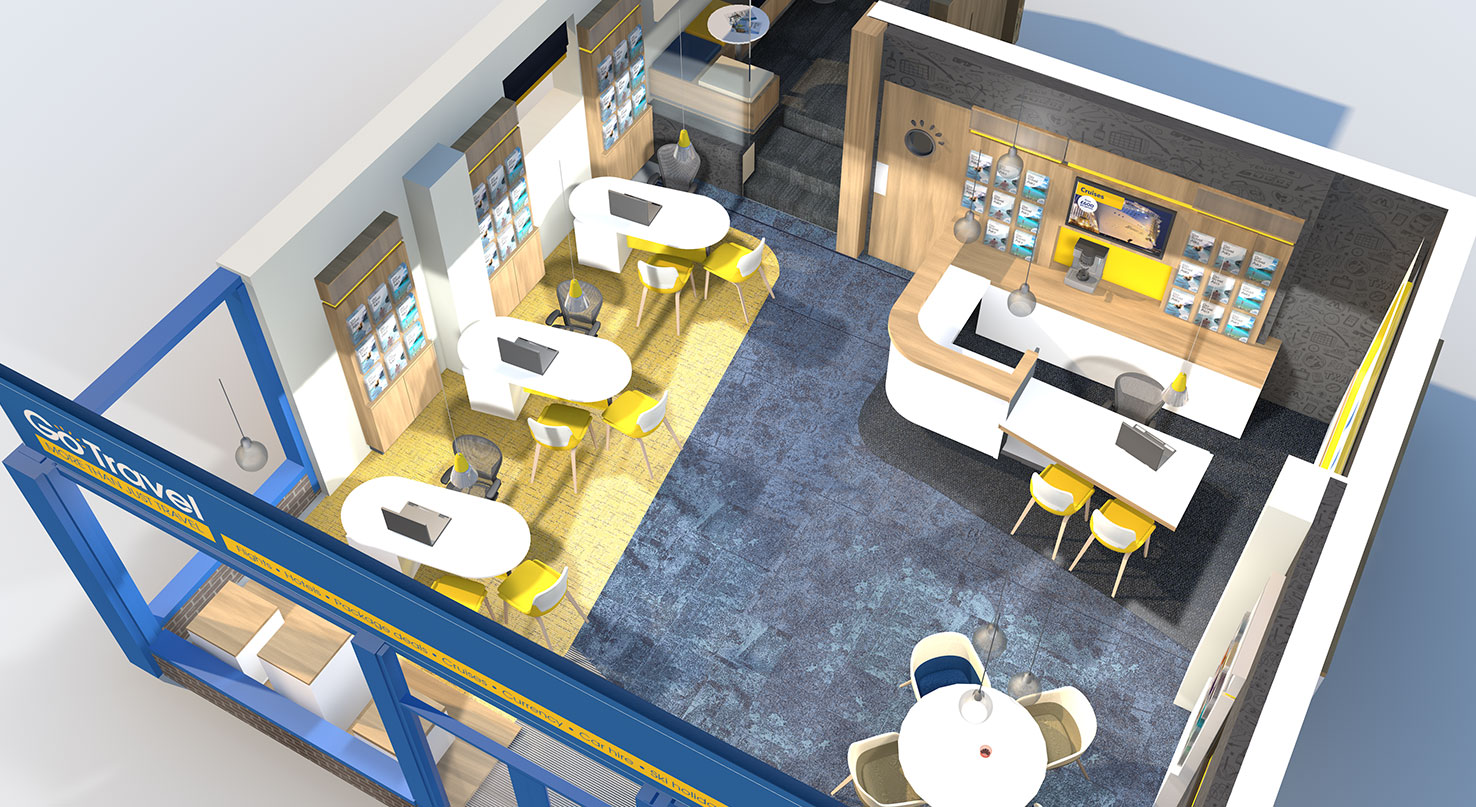 Interior Design
Our interior strategy addressed the need to communicate the quality, expertise and wide range of services that Go Travel offer their clients, as well as responding to the challenge to high street stores by online retail culture.
Key to this was the zonal study of the store; optimising the space and creating a more inviting layout. Instead of being greeted by a row of sales desks that directly confronted anyone entering the store, potential customers can now explore and get advice. The addition of a  'discovery room' invites longer dwell time and a space in which customers can browse and get travel inspiration.
The warmth of the new look store is enhanced by a mixture of contemporary materials and natural finishes. Special features include rich, 'ocean influenced' carpeting and a considered use of the brand palette throughout the interior emphasises the overall bright, airy environment. The result is a store that looks inviting from the high street and delivers on its promise.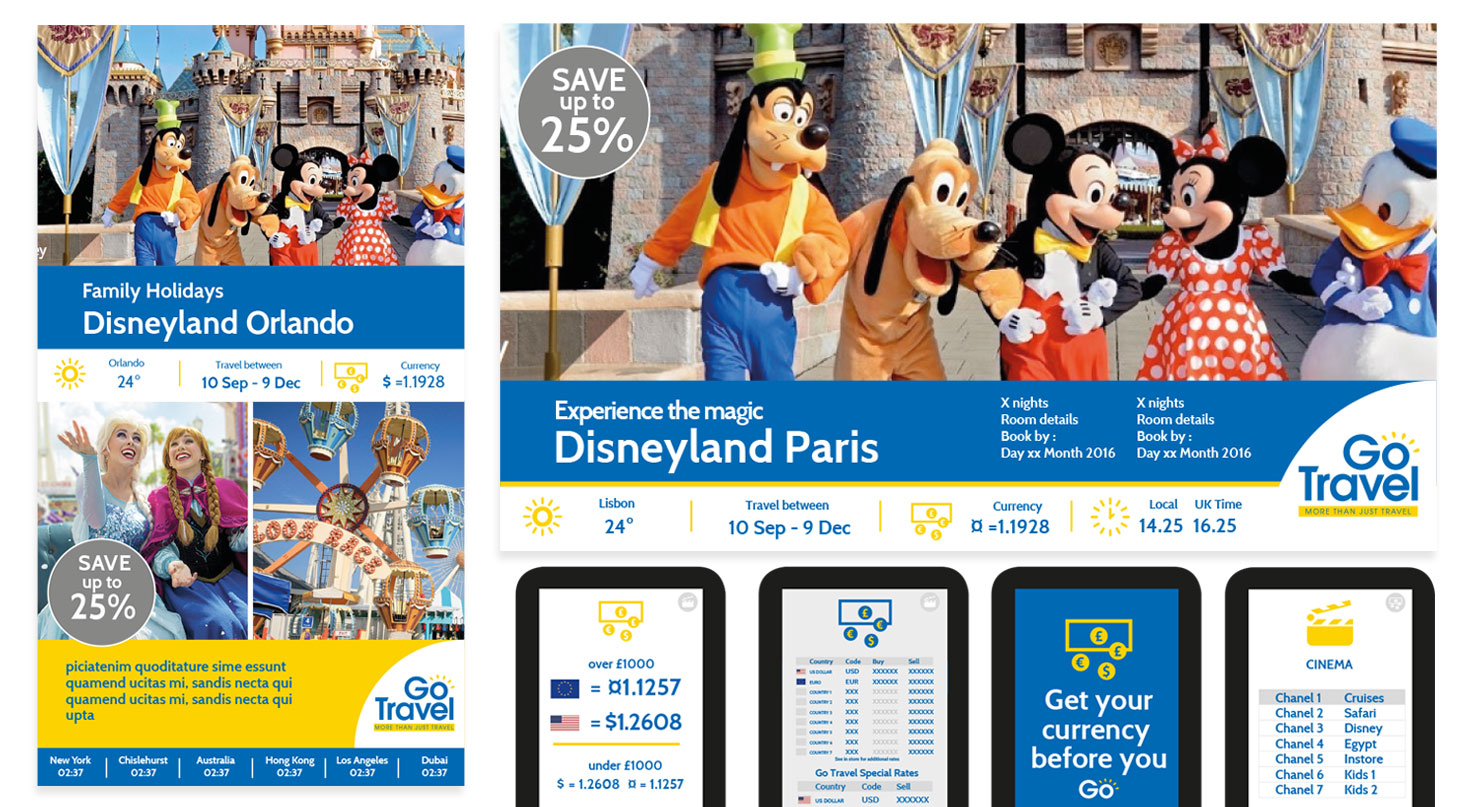 Digital
Nugget Design were also appointed to design and develop the in-store media for Go Travel's digital content. Working with Inurface media, our partners for supplying and developing the bespoke content, we were able to create a complete new bespoke digital solution for the independent travel agency. Something that once was only available to larger high street chains.
These digital screens have been seamlessly integrated into the store's interiors and a 55" high brightness feature screen for the shop window. The aim of this was to engage and attract new clients and passing foot traffic with new dynamic shopfront infographics and marketing. The screens are continually updating, actively promoting the store's services, special offers and currency.  This bespoke system will also even present the currency and weather in the destination on offer and highlight the store's latest social media activity, holiday photos and customer recommendations. The system has been designed so all stores can be managed remotely and also updated locally within each branch. We believe this will add huge value to the Go Travel branches.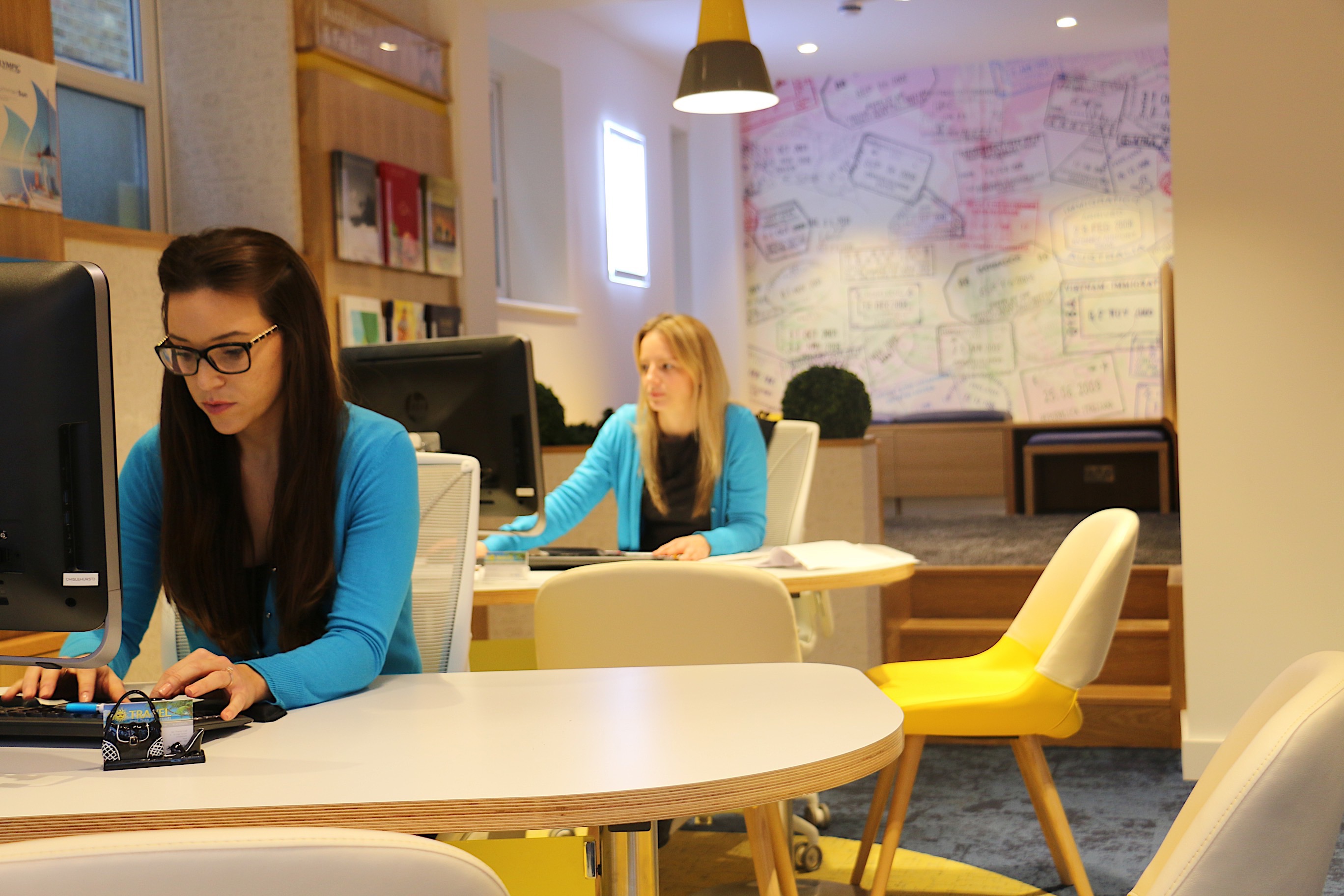 Signage & Environmental Graphics
The scope of works and budget did not cover a full signage package as the client decided to invest in the interiors at this point. So we prepared a concept signage that could be applied as a temporary measure but could still serve as semi-permanent if need be. With the restricted budget it was agreed to re clad the existing panels rather than design and build a complete new signage system. We prepared a simple yet elegant artwork that allows the new brand to stand out and add personality to the high street with the subtle new travel illustrations. Window graphics were applied to the shop window to highlight Go Travel's vast range of services.

Check out our photographs
of Go Travel Chislehurst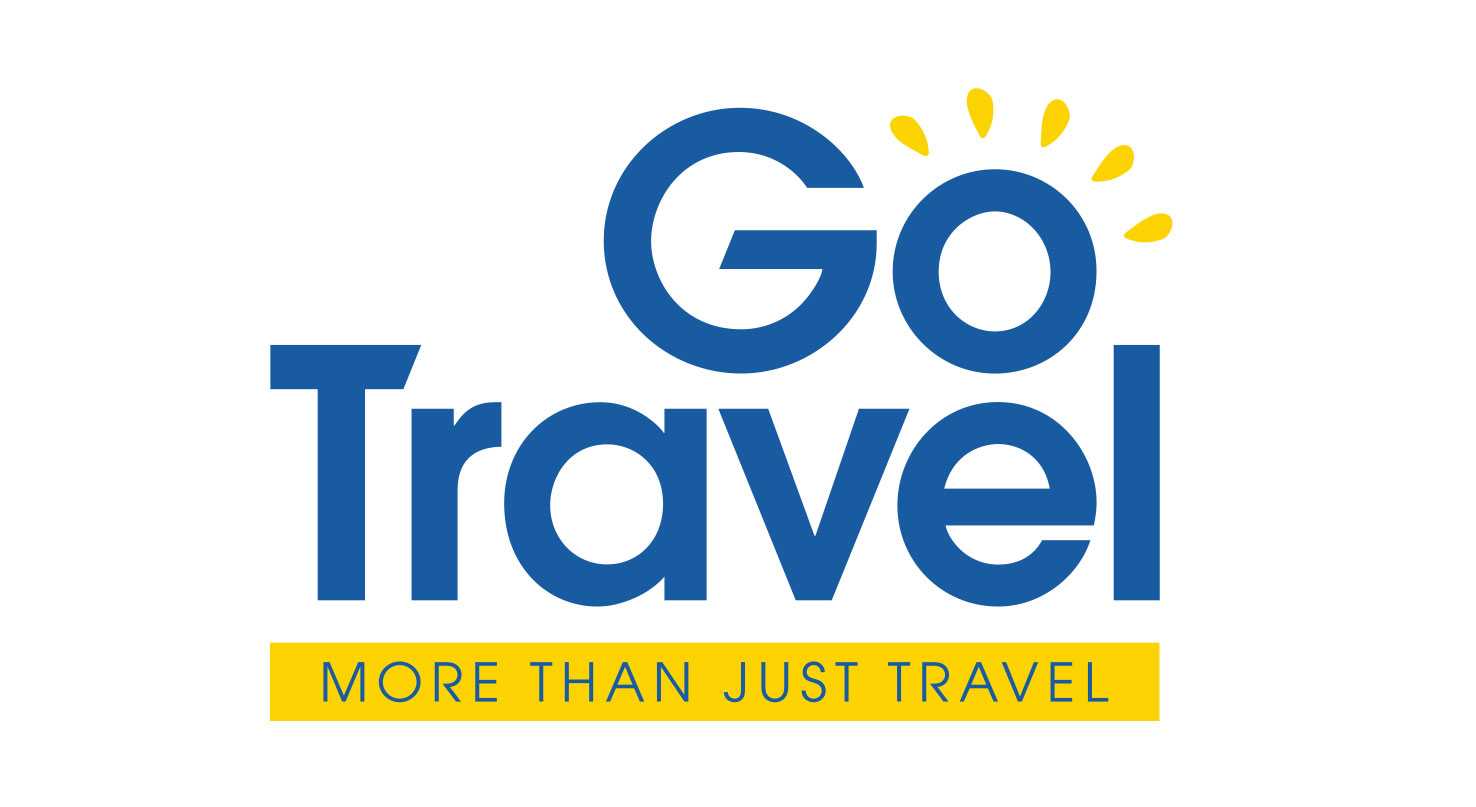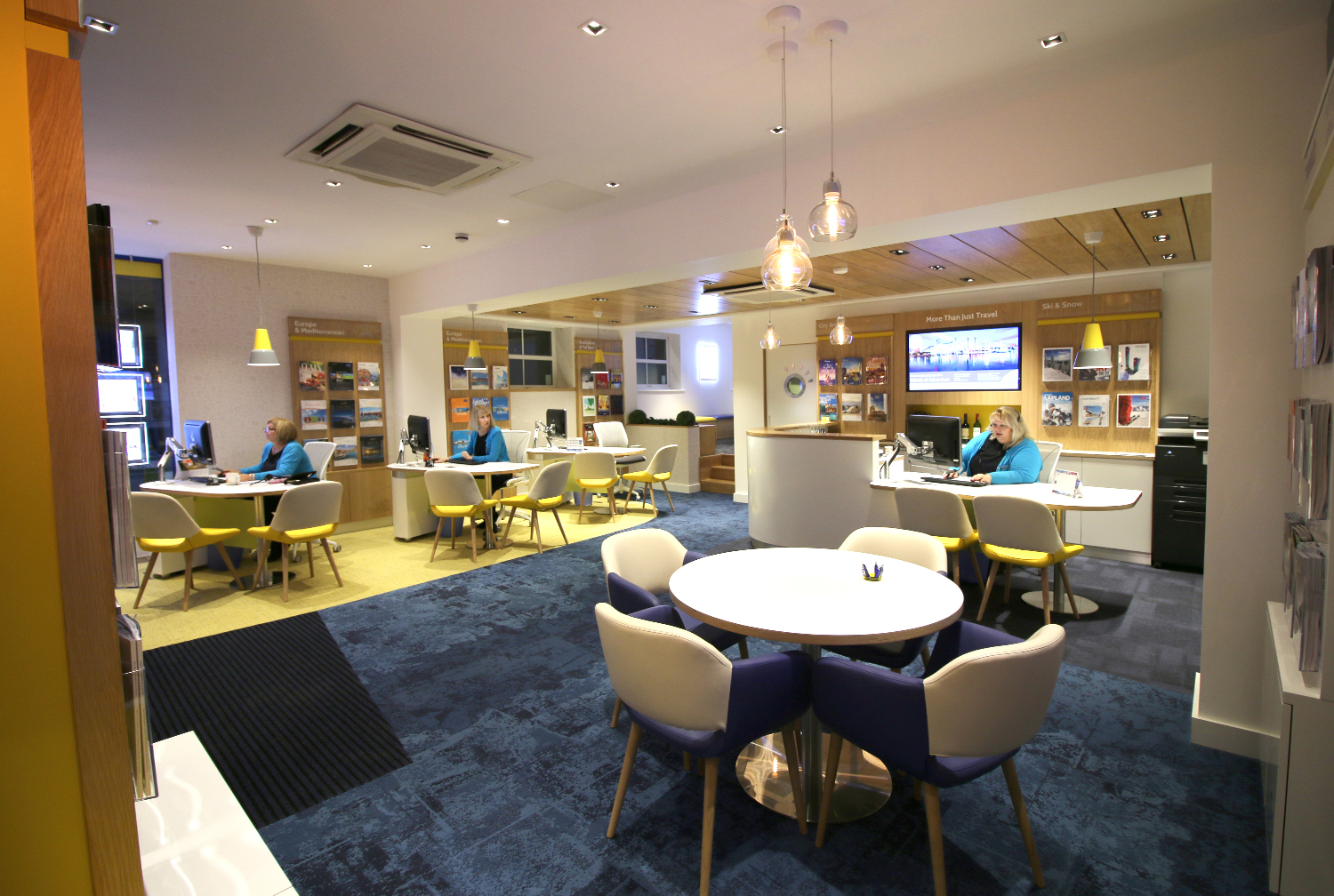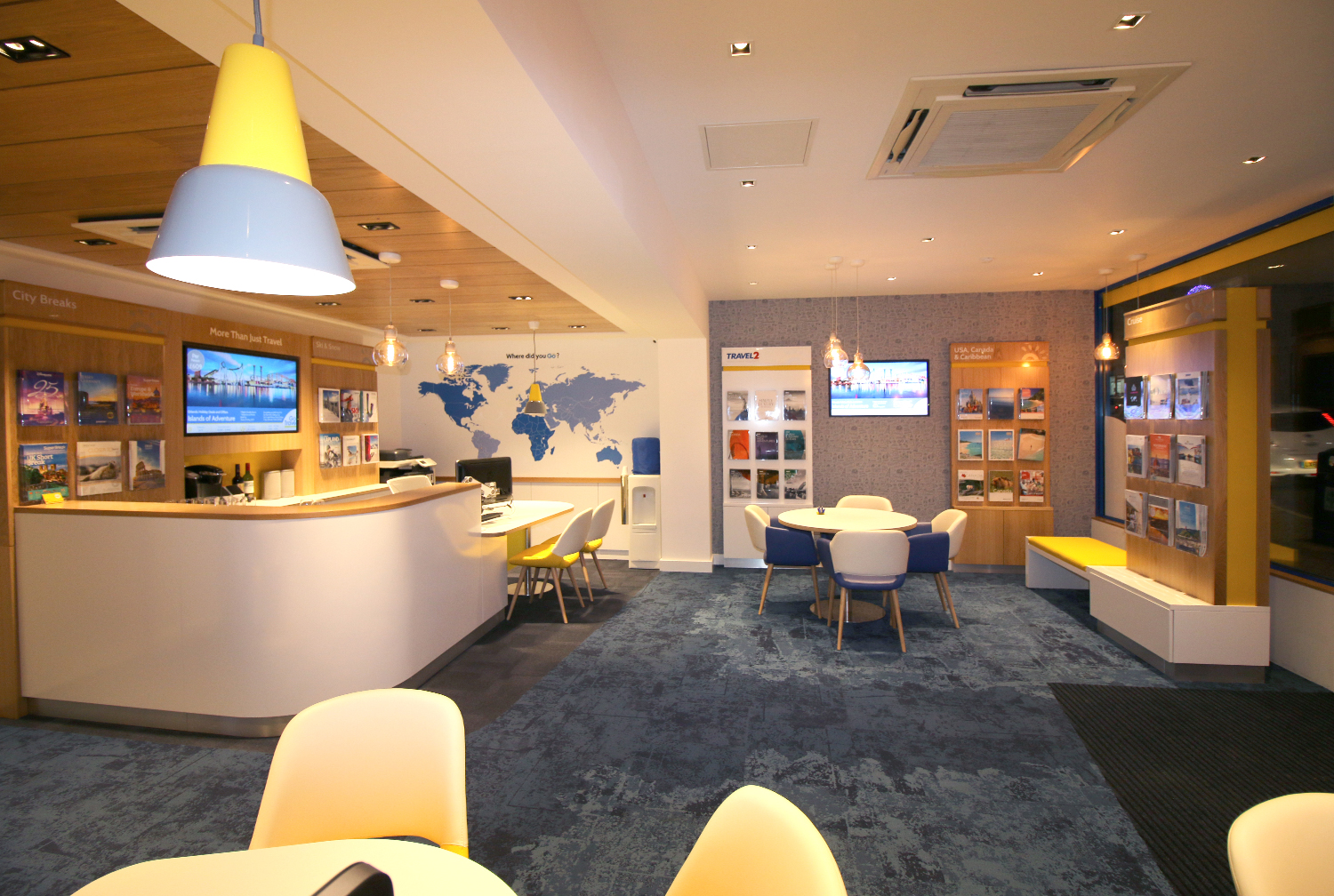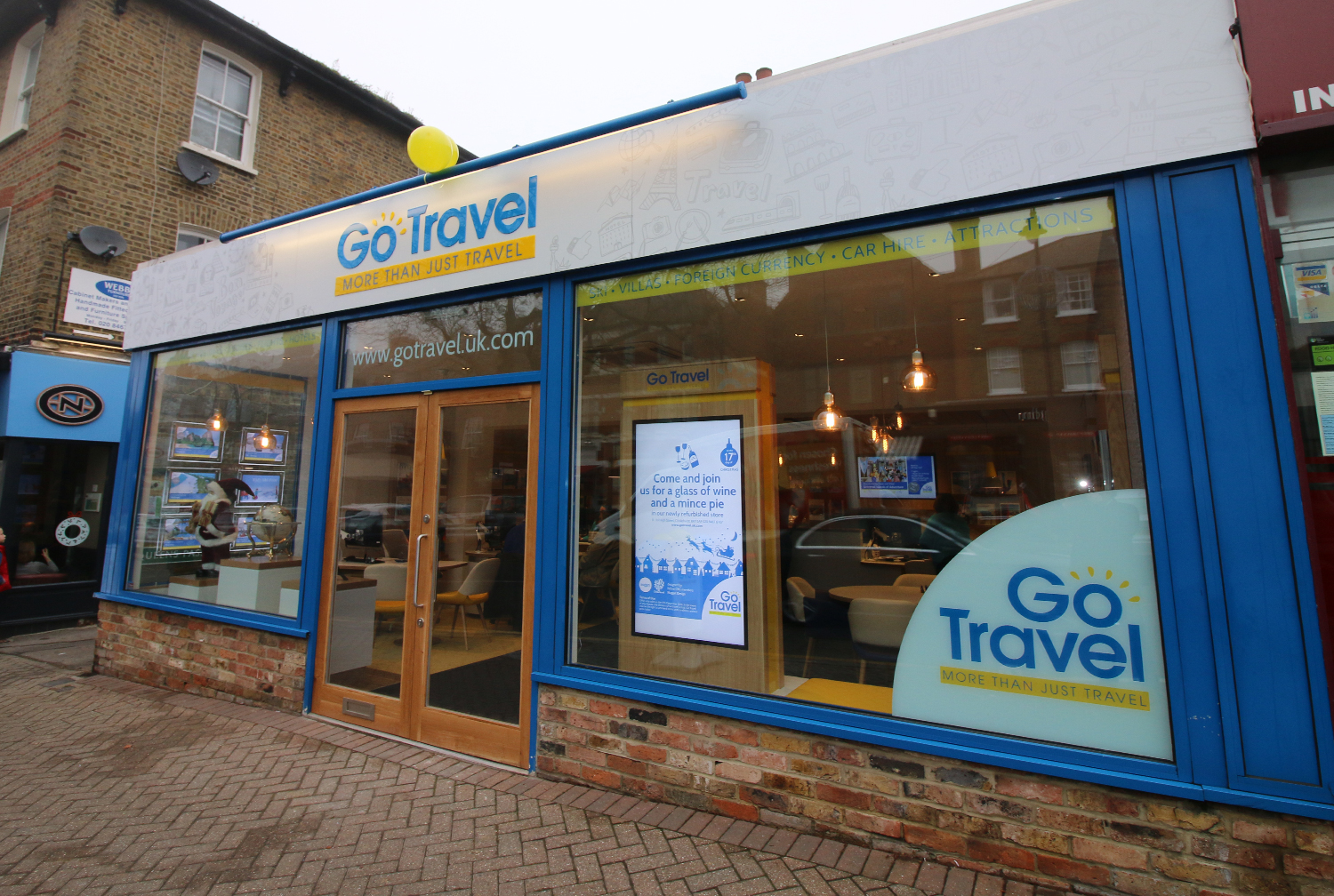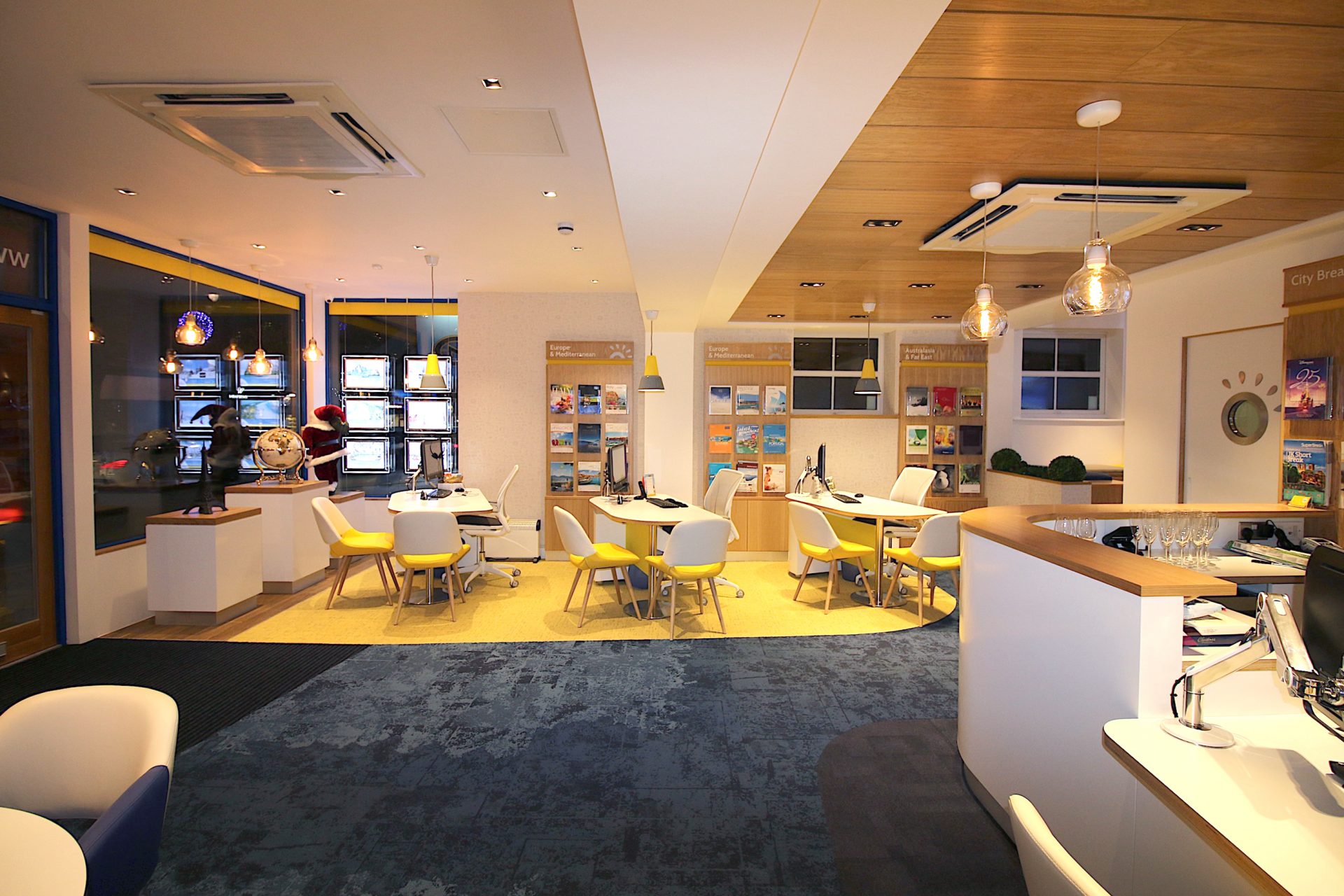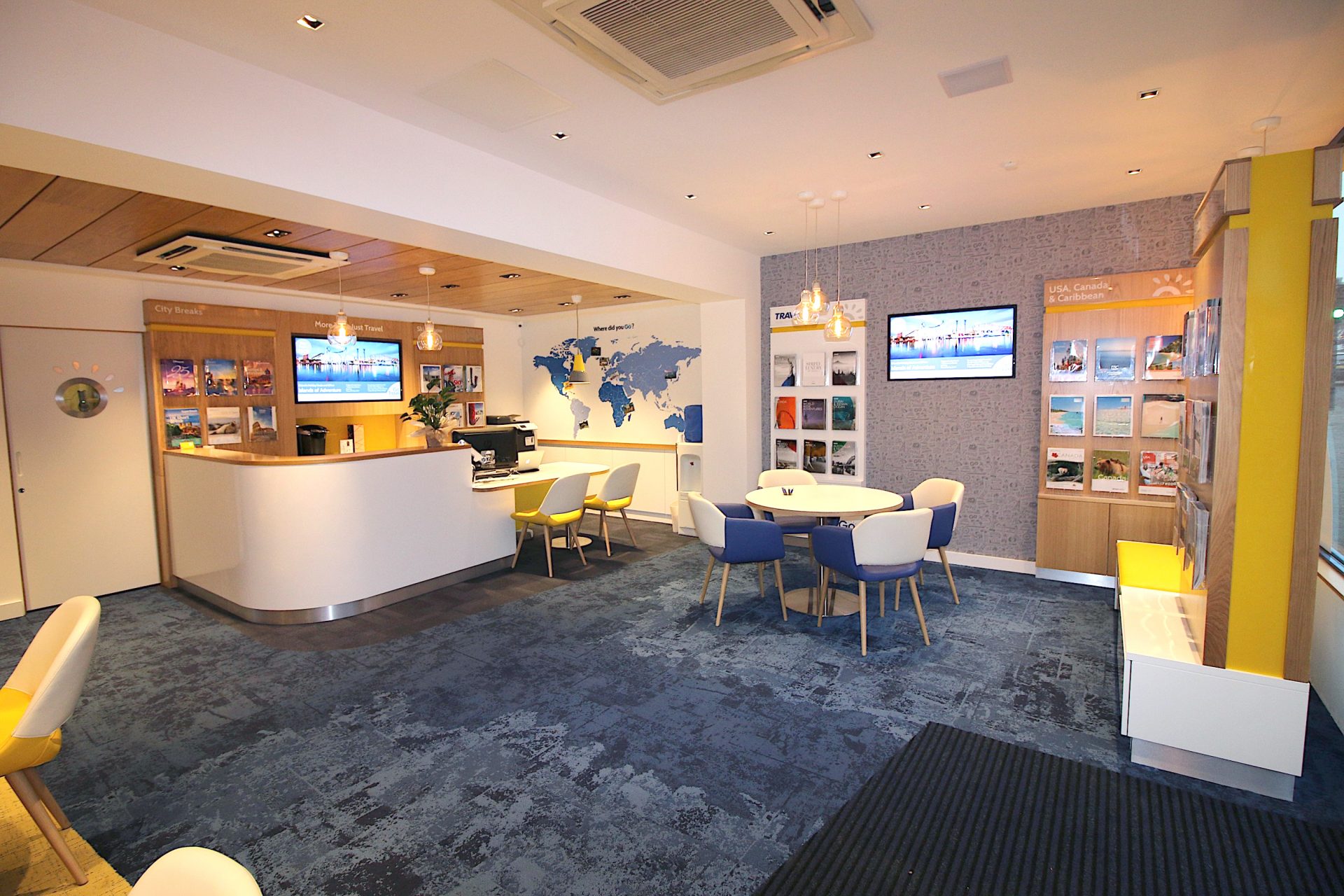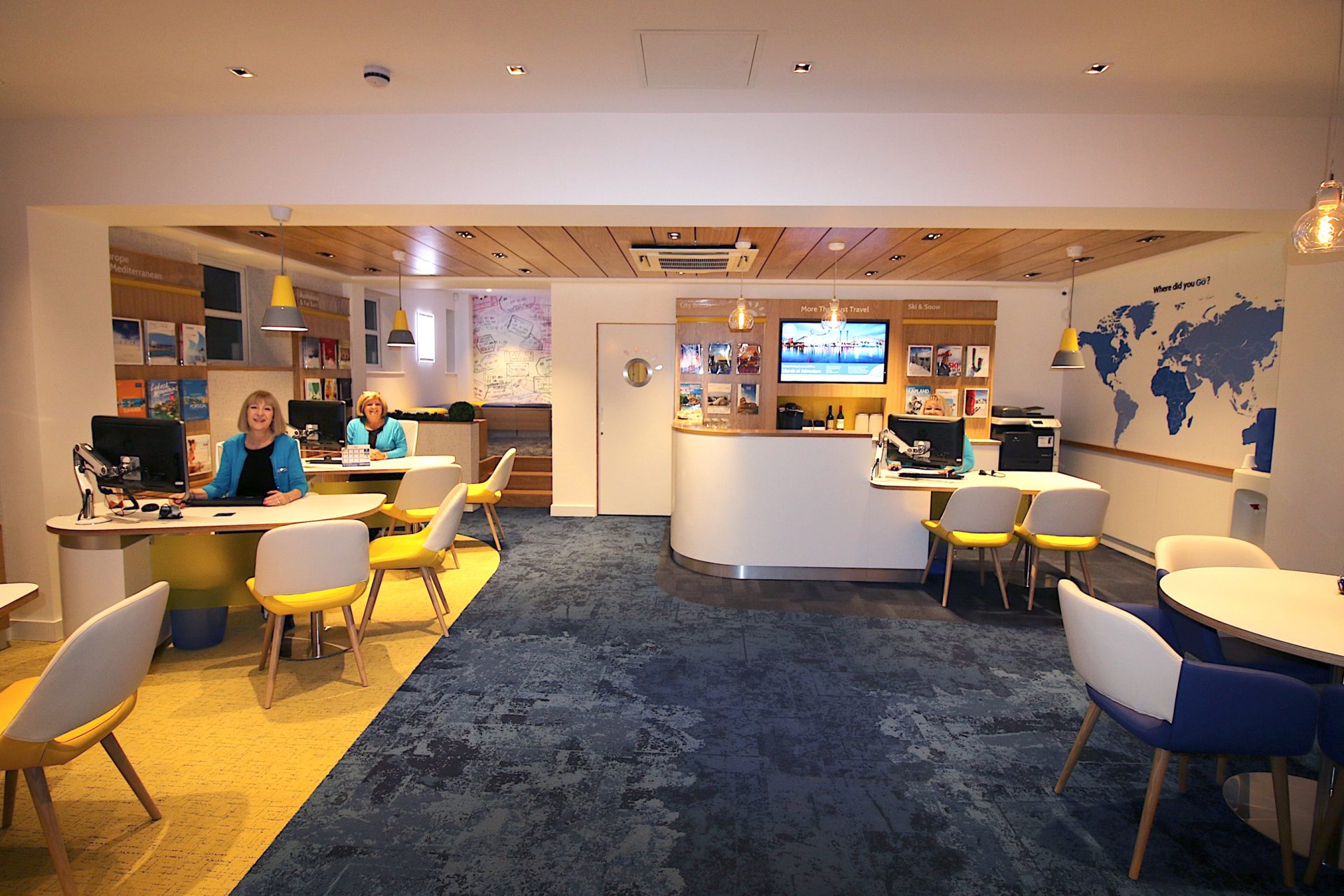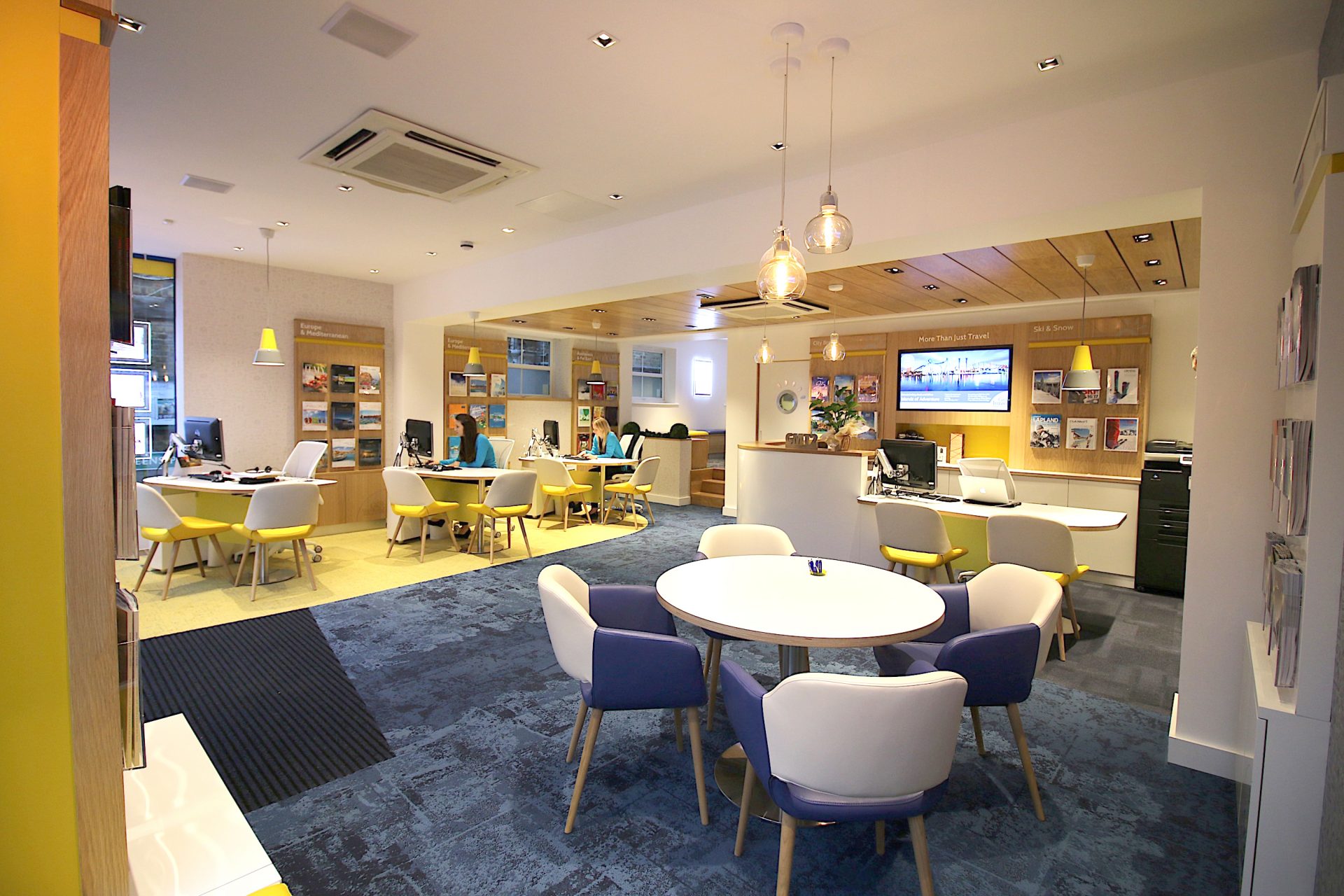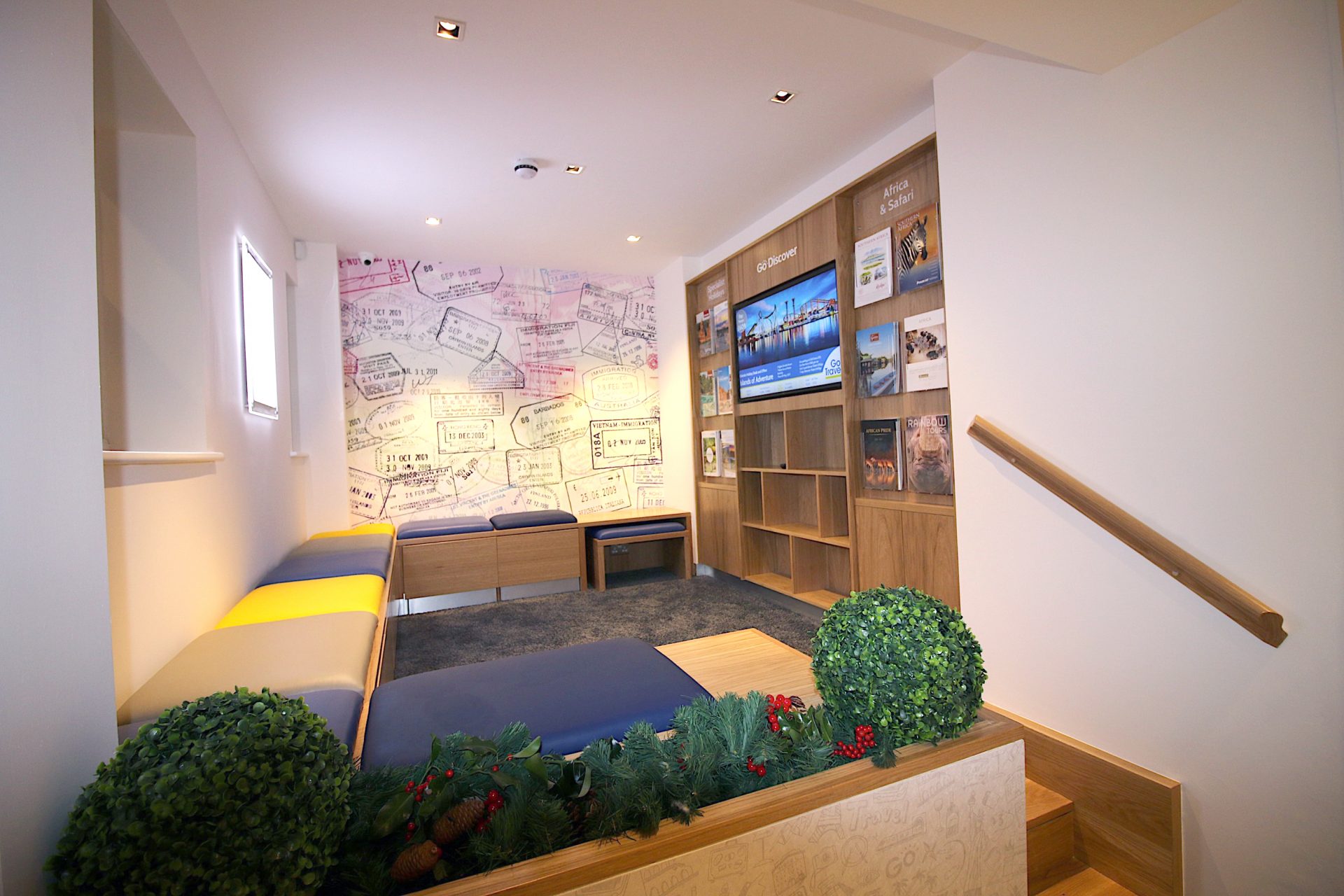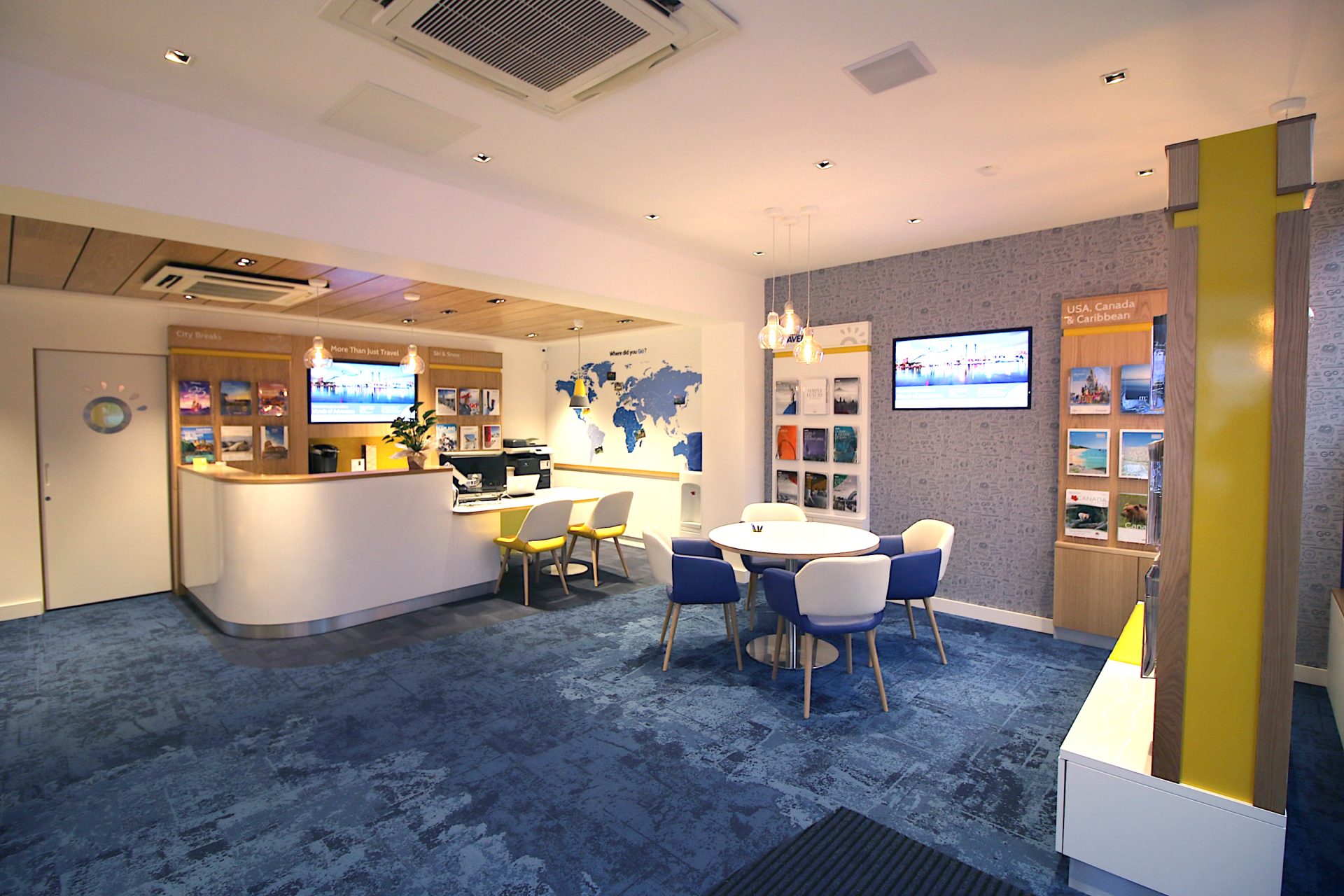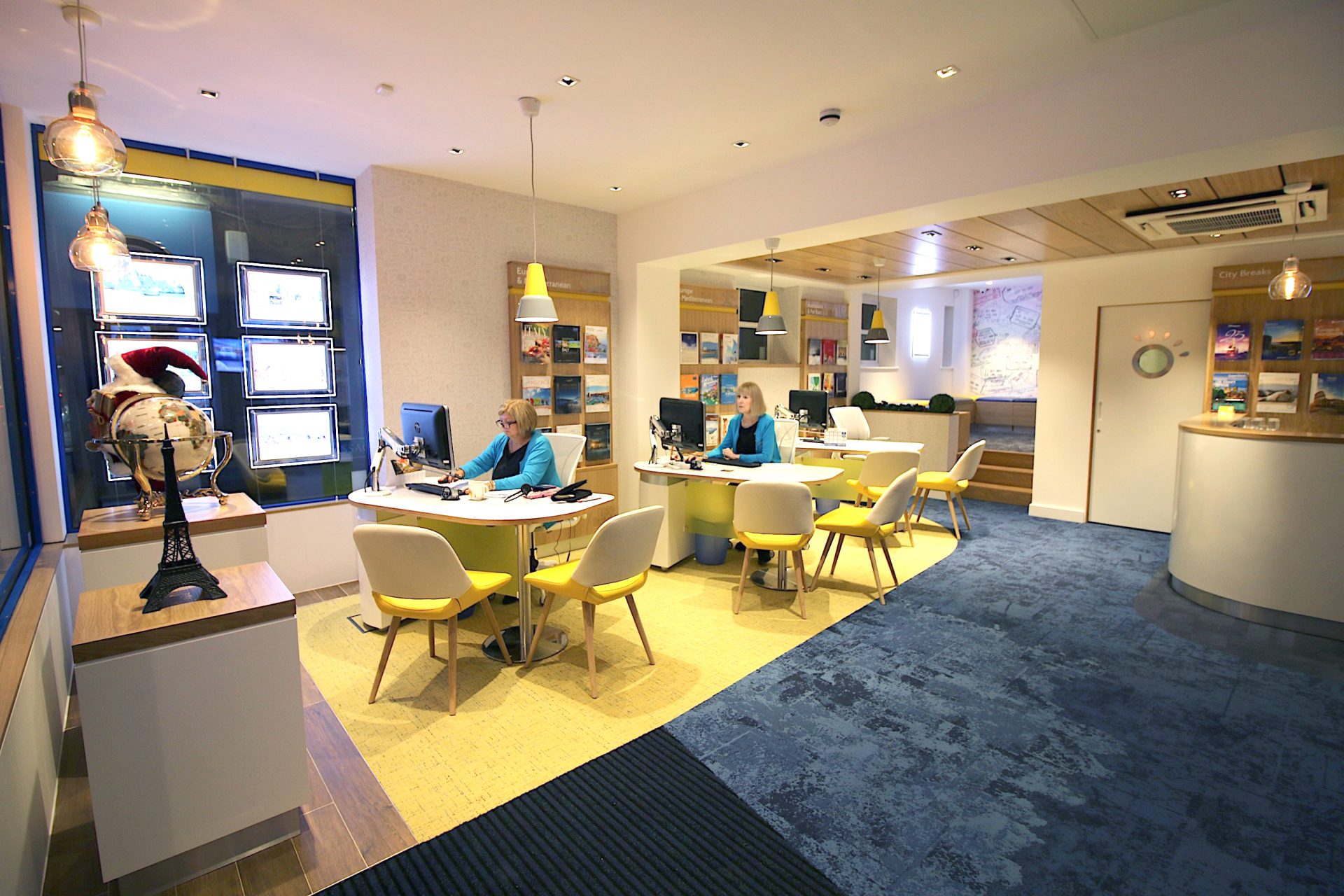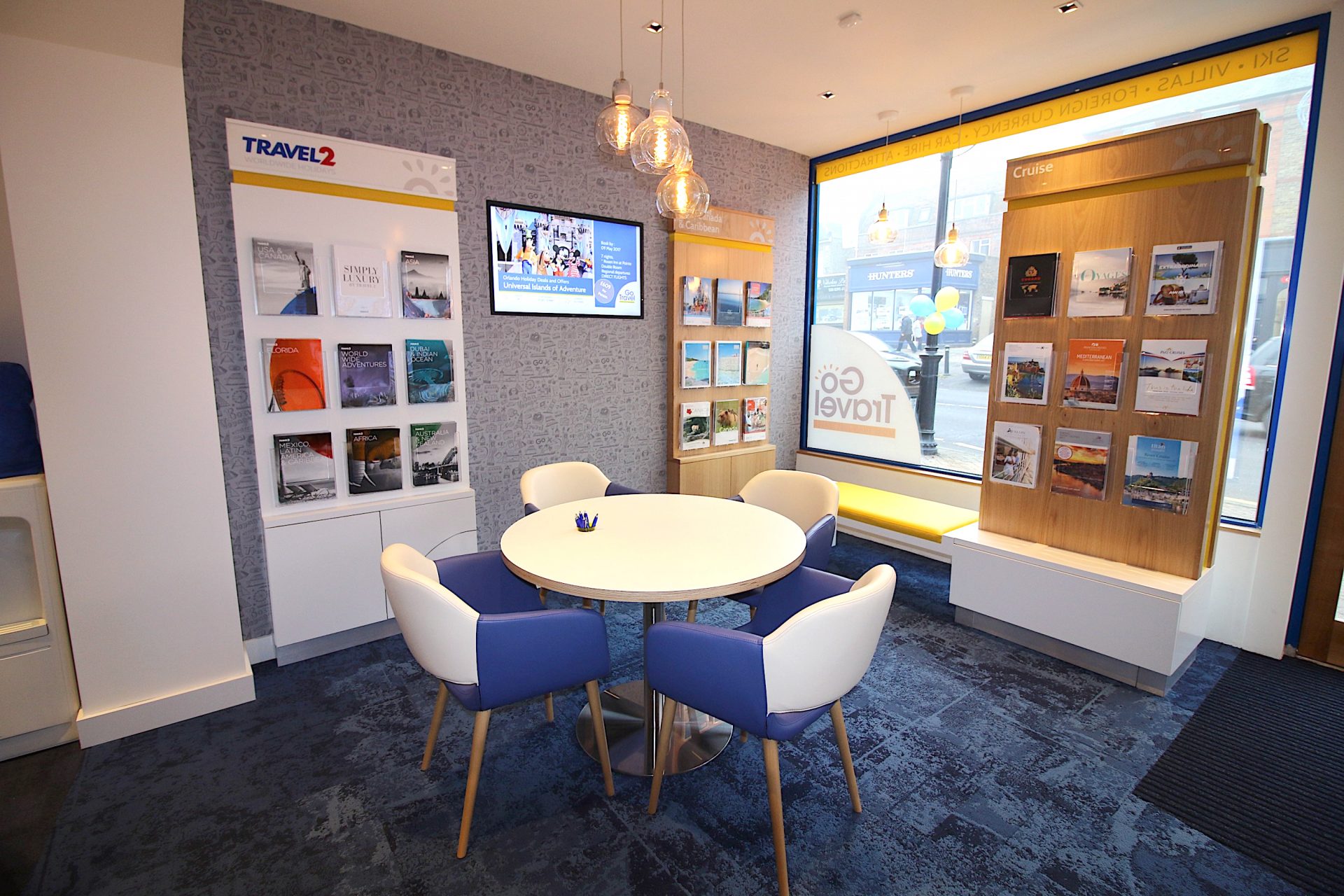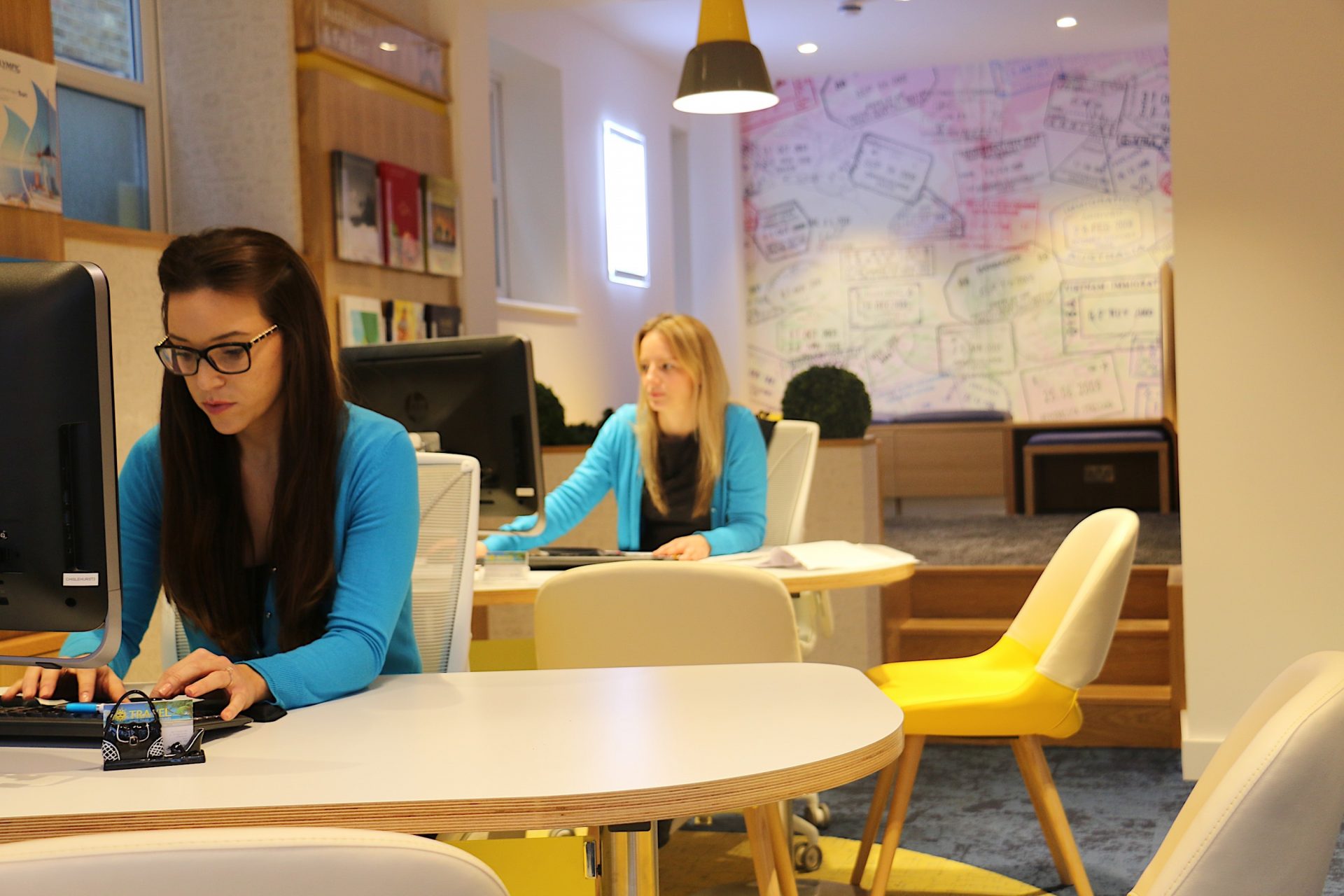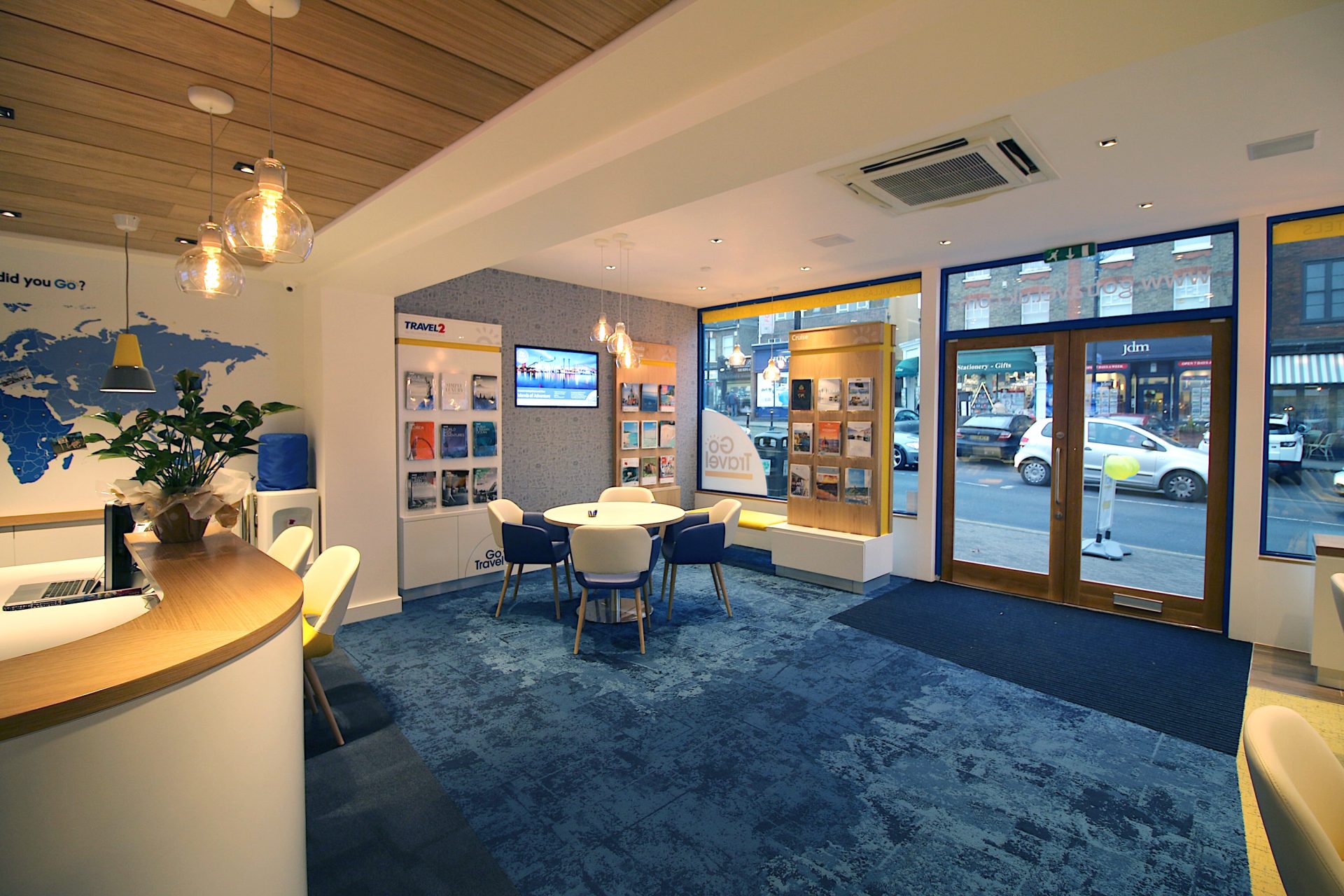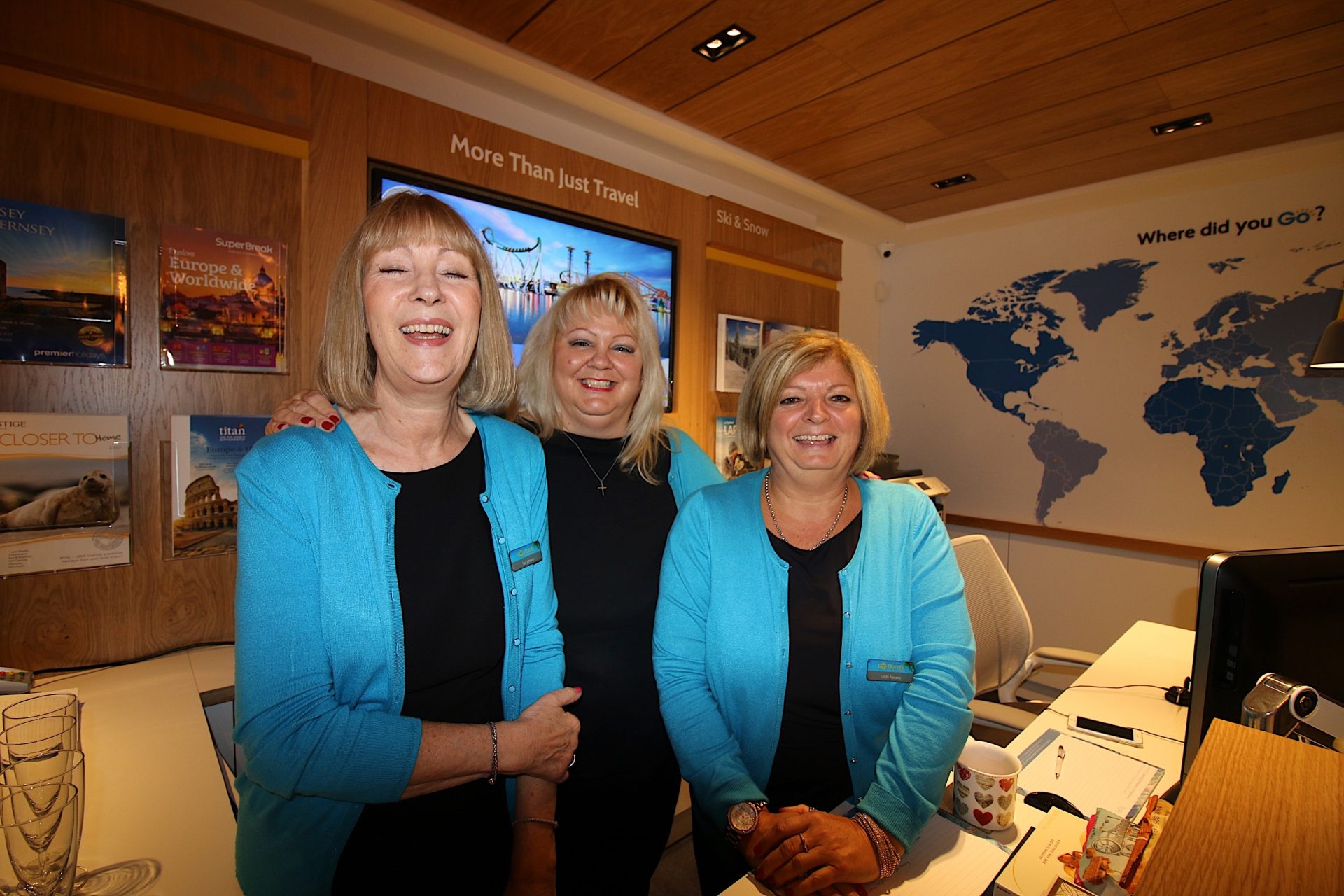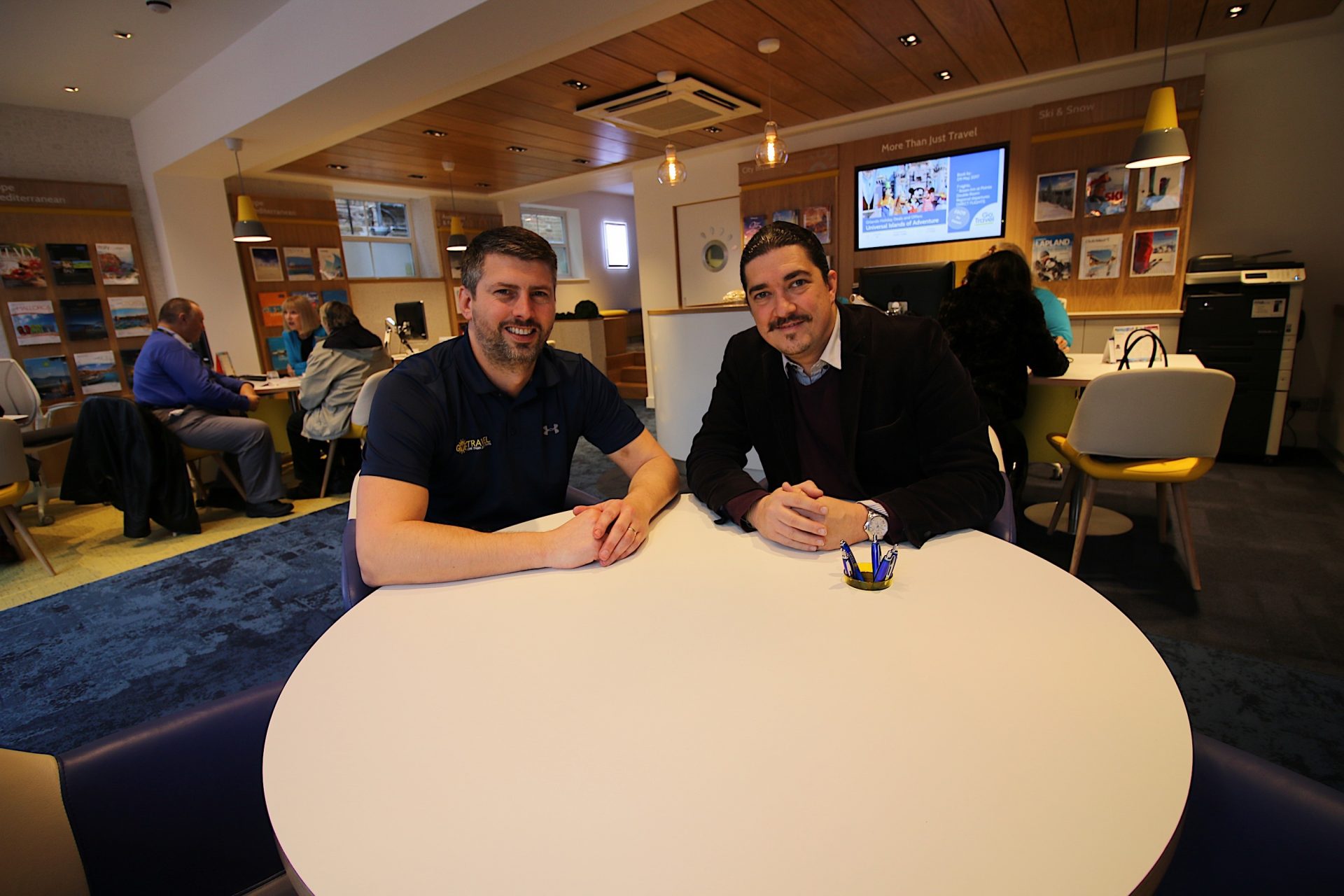 Branding and Interior Design: An example of the typical process and stages of work we take our clients on.